By New Age Islam Edit Bureau
9 October 2020
• The UAE Is Leading the Way on Gender Equality, but There Is More To Do
By Nairouz Bader
• Time for EU to Stop Looking the Other Way in Myanmar
By Dr. Azeem Ibrahim
• India Works to Boost Influence in Iran as Beijing-Tehran Ties Warm
By Sabena Siddiqui
• What Palestinians Expect From a Biden Presidency
By Najla M. Shahwan
------
The UAE Is Leading the Way on Gender Equality, but There Is More To Do
By Nairouz Bader
08 October 2020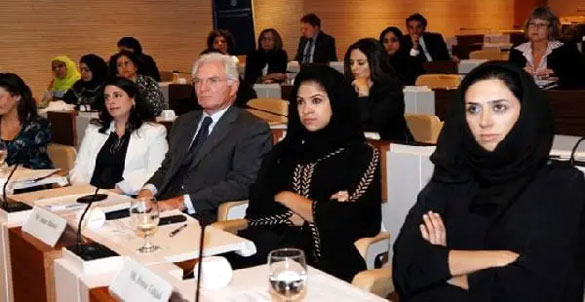 The United Arab Emirates' recent landmark law mandating equal pay for men and women is an important step toward gender equality in the Middle East. But across the region, there is still more work to be done.
Thanks to the commendable efforts of women worldwide, there has been a transformative shift in favour of equality over the past few decades. Women now not only have a say in matters of public interest, but they have evolved into world leaders whose voices truly matter, echoing to the world that change and equality is inevitable.
This global shift toward gender equality has also been felt in the Middle East. The region has experienced unprecedented growth over the past few decades. The rise of a middle class has given women access to good education and health care. Several women have made a name for themselves and taken up leadership roles across the board.
For all the latest headlines, follow our Google News channel online or via the app.
Not only is the need for gender equality socially, culturally, and ethically essential, but it is also economically advantageous. According to a McKinsey report, advancing women equality in the workplace could add $12 trillion to the global GDP by 2025. The report further states that gender-diverse companies financially outperform others by 15 percent.
But all that glitters is not gold. In some nations where women are educated, this privilege does not translate into good job prospects, let alone mobility.
One of the main challenges concerning women empowerment is tackling the visible impediments to inclusive equality for all women. The more inclusive a society is for women, the better the overall development of any given nation. History has proved this fact time and again, and the UAE is a classic example of how this holds true at the treatment meted out to women.
The UAE has unwaveringly championed the rights of women for decades.
Efforts put in by the country's leadership toward women empowerment have not only borne fruit, but the world itself is a witness to their achievement in this regard. Women actively participate in all sectors, and the conspicuous contribution of women is thoroughly encouraged, hailed, and applauded. Through education, the UAE has worked hard to nurture and empower young minds to actively participate in the country's national development programs.
The September 25 decree stipulating equal pay for men and women in the UAE, as decreed by President Sheikh Khalifa bin Zayed Al Nahyan, epitomizes this progress. As rightly stated by Vice President of the UAE and Dubai ruler Sheikh Mohammad bin Rashid, it is a crucial step in safeguarding gender balance in the UAE. The law not only calls for equal wages to be paid to either gender carrying out the same kind of work, but it also demands more women be employed in the private sector.
The UAE has also implemented these changes effectively. The country has established the UAE Gender Balance Council, a ministry tasked with upholding gender equality and women's rights. Its efforts have been recognized globally: The United Nations Development Program's Gender Inequality Index ranked the UAE 1st in the Arab region and 26th globally for gender equality.
Yet across the world, there is still more work to be done.
In the face of new policies that empower women, technological and social shifts, we must invest in a transformative change in favour of equality, so women can play a more significant role in leadership roles and creating solutions for the region.
For sustainable growth, women also need to rise in terms of socio-economic status. Poverty is often directly proportional to low income, and a persistent disparity in the wages of women has far-reaching consequences. Globally, there is an alarming 19 percent disparity between the wages of men and women holding the same educational qualifications and doing the same job for the same hours, according to data from PayScale.
This disparity has historically worsened when crises hit, such as today's coronavirus pandemic.
As the pandemic ravages the global economy, an estimated 96 million people could fall under the poverty line by 2021, and women who are already underpaid would face the wrath of this prolonged injustice much more consequently as compared to others.
To tackle this issue, several routes are necessary.
All aspects of remuneration of an employee should be taken into consideration when calculating equal pay, including bonuses and overtime as well as shares, not just the basic salary alone. This will help achieve true parity of income.
Making women decision makers at all levels will also help achieve the shift toward equality, while education will encourage the young generation to support equality from an early age. Young women must be allowed to be outspoken and encouraged to speak out. Investing in a future economy by digitizing women's skills and empowering women with cyber literacy will encourage self-sufficiency, allowing women to climb in society.
In all these cases, reform starts from within – the sooner women-oriented mentoring spaces are recognized, the better. Hand over the baton of power to feminine jurisdiction and rest assured, the world will surely be in safer hands.
-----
Dr. Nairouz Bader is the CEO and founder of Envision Partnership, with over 20 years of business experience. She partnered with the Swiss government as an official OSEC expert on human resources, launched AESC in the Middle East and North Africa, and co-managed IIC Partners business affiliation, among other roles.
https://english.alarabiya.net/en/views/news/middle-east/2020/10/08/The-UAE-is-leading-the-way-on-gender-equality-but-there-is-more-to-do
-----
Time for EU To Stop Looking The Other Way In Myanmar
By Dr. Azeem Ibrahim
October 08, 2020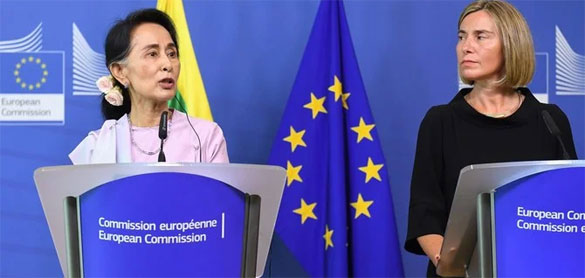 One of the most striking aspects of the evolution of relations between Myanmar and other global players in light of its genocide against the Rohingya is the continued cooperation it enjoys with the EU. European leaders are making the wrong moral judgment calls in this situation.
After the mishandling of Cyclone Nargis in 2008, the old military junta governing Myanmar lost all traces of legitimacy and was forced to open up the country to a new constitution and a path toward democratic governance. This was heralded in the West as a great development that should be supported morally and financially, and there were high hopes that the constitutional changes would enable the emergence of a democratic civilian government that would no doubt be led by pro-democracy icon and Nobel Peace Prize laureate Aung San Suu Kyi. Western powers rushed to offer the necessary support to help the country with its reintegration into the global community, and the EU was the most generous and reliable player in this endeavour.
But no one anticipated just how far this civilian government they were hoping for would fall from Western expectations. Suu Kyi's government came to power in earnest in 2016. Just a year later, forces of the federal military would instigate and carry out genocide against the Rohingya Muslim minority by the border with Bangladesh — the worst human rights violation committed by Myanmar in its entire post-independence history.
This illustrated that, despite the constitutional changes, it was still the old military establishment that ultimately called the shots in Myanmar. But what shocked all Western observers was that Suu Kyi herself did not only fail to condemn the genocide, but rather she was going above and beyond to defend and rationalize the actions of the military, even to Western audiences — including before the International Court of Justice.
The "clearing operations" against the Rohingya in Myanmar forced more than 1 million people — an overwhelming majority of the total Rohingya population that remained in the country at the beginning of 2017 — to flee. But the military and the civilian government of Myanmar remain unrepentant, and efforts to destroy the very identity of the Rohingya as a people are ongoing.
The latest episode in this sad saga is an election app designed to inform Myanmar voters of the available candidates in their region for next month's general elections in the country. The app deliberately describes the few Rohingya individuals allowed to even stand for election as "Bengali" — the term used by the military and Suu Kyi herself to imply that the Rohingya are "foreign" and illegitimate, and therefore their expulsion from the land of their forefathers is justified.
The app was developed with financial and technical support from the EU. It was part of the bloc's long-standing policy to support the development of democracy in Myanmar, dating back to the aftermath of Cyclone Nargis. In other words, the EU has supported the development of an app that the government of Myanmar is now using to further the erasure of Rohingya identity.
Unfortunately, the EU seems to remain committed to the notion that its continued support of so-called "pro-democracy" initiatives in Myanmar serves some kind of "greater good." This is despite the fact that the worst human rights abuses in the history of Myanmar have occurred since the emergence of the "democratic" government of Suu Kyi, and both she and her entire party remain staunch apologists of the genocide. This is insanity, and morally indefensible. No greater good can be served by turning a blind eye to genocide. Ever.
The EU has had two years to update its stance on Myanmar in light of the Rohingya genocide. It is well past time that Brussels stop looking the other way and start living up to its founding values. After this latest debacle — after it has allowed itself to be manipulated into supporting a tool of genocide in the arsenal of the government of Myanmar — the EU must finally pull back from its engagement with Myanmar and make its continued support for democratic development conditional on that democracy being made available to all the people of Myanmar, including the Rohingya.
---
Dr. Azeem Ibrahim is a Director at Center for Global Policy in Washington, D.C.
https://www.arabnews.com/node/1746131
-----
India Works To Boost Influence In Iran As Beijing-Tehran Ties Warm
By Sabena Siddiqui
Oct 8, 2020
Indian Defense Minister Rajnath Singh and Indian Foreign Minister Subrahmanyam Jaishankar both visited Tehran last month, on separate occasions but within the same week. Though the purpose of the meetings — according to official statements — was aimed at "strengthening bilateral cooperation" and discussing some "important regional issues," the agenda likely included the handling of Chabahar Port in Iran.
New Delhi has been working closely with Tehran on initiatives to help make the port an economic success. Chabahar, located less than 900 miles from Mumbai, will serve as an important gateway for India into Afghanistan and Central Asia.
Unscheduled, these brief stopovers by senior Indian ministers denote a growing uneasiness in India ever since the drafting of a prospective 25-year strategic partnership between Iran and China was leaked.
During a visit by Indian Prime Minister Narendra Modi to Tehran in 2016, Iran, India and Afghanistan had signed a trilateral agreement named the International Transport and Transit Corridor to facilitate the transfer of Indian goods to Afghanistan via Chabahar Port.
Since the draft mentioned large-scale Chinese investments in Iranian ports, Indian involvement in various projects could get affected and having an important role in developing a terminal at Chabahar Port, New Delhi is bound to be concerned.
Even though Tehran's deal with Beijing is not final, New Delhi would like to consolidate its interests in Iran.
Notably, Singh became the first Indian defines minister to visit Iran in two decades. After having a positive round of talks with his Iranian counterpart, Singh tweeted, "Had a very fruitful meeting with Iranian defines minister Brigadier General Amir Hatami in Tehran. We discussed regional security issues including Afghanistan and the issues of bilateral cooperation."
Two days later, the Indian foreign minister arrived in Tehran for a short visit on his way to attend the Shanghai Cooperation Organization Summit in Moscow.
According to reports, both the visiting Indian ministers had sought assurances from the Iranian side that New Delhi would remain involved in port handling and other projects, and the situation would remain unchanged if China and Iran do finalize the strategic partnership.
New Delhi's concerns are not unfounded as India was dropped from the Chabahar-Zahedan rail project citing concerns over delays and funding in July. At that time, Farhad Montaser, the deputy to Iran's Ports and Maritime Organization, had even stated that Iran had no agreement on building the railway line.
According to The Hindu news daily, Iranian Railways had decided to complete the project itself, using $400 million from its own National Development Fund. Losing one more project, the Indian Ministry of External Affairs had disclosed that India's ONGC Videsh Ltd. had been "cut out of the development of an Iranian gas field project, Farzad-B, though talks had been in process since 2009."
However, Iranian officials had denied reports suggesting that Chabahar Port would be leased to China even though speculations were rife about a "$400 billion" strategic partnership between Beijing and Tehran at that time, and the general perception was that India had received a permanent setback.
Describing the implications for New Delhi, former Indian envoy to Iran KC Singh had said, "[The Iran-China deal] impinges on India's 'strategic ties' with Iran and the use of Chabahar port. Jask lies to the west of Chabahar and right before the Strait of Hormuz. China would thus extend its control along the Pakistan-Iran coast."
However, the recent talks have been successful. Nearly two weeks after the visits by both the ministers, New Delhi has asserted that it remains engaged with Tehran.
Replying to a query in the Lok Sabha, the Indian parliament, Minister of External Affairs V. Muraleedharan stated that India and Iran continue to cooperate on developmental projects in Iran and that even the Chabahar-Zahedan railway project worth around $1.6 billion is back on track.
In reply to another query, Muraleedharan also announced that India will be participating in the first phase of development of the Shahid Beheshti Port in Chabahar. Having taken over the port operations in December 2018, India Ports Global Ltd. have been handling the cargo.
If Tehran and New Delhi are planning to implement Chabahar and other projects under Indian supervision once again, it would be a significant move.
First, India wishes to balance Chinese influence in the region and if New Delhi manages to regain its footing in Tehran, it has some symbolic value.
Manoj Joshi, a foreign policy expert from the Observer Research Foundation in New Delhi, said, "Iran is also important in the sense that China has been dominating the region, and New Delhi doesn't want to give a free run to Beijing."
Second, the timing of the Indo-Iranian reengagement is particularly interesting as the Indo-China border has remained volatile since last year and some serious frictions have taken place lately. Moreover, Iran and India also have a strategic defense pact known as the New Delhi Declaration since 2003.
Third, Chabahar in the Sistan-Baluchistan province can be New Delhi's gateway to Afghanistan and Central Asia since it is denied land routes via Pakistan by Islamabad. Situated about 900 miles from the Indian port city and commercial capital of Mumbai, Chabahar helps India gain access to an important geopolitical region.
Finally, Chabahar strengthens trade links between Tehran and New Delhi. Before Iran got sanctioned by the United States, it had strong commercial and cultural ties with India and New Delhi and imported $12.11 billion worth of crude oil in 2018-19. After suspending oil purchases, bilateral trade was left to just around $4.77 billion and Indian influence also decreased in Iran.
In the days ahead, the Indo-Iranian strategic relationship will depend a lot on the closeness between Beijing and Tehran, and if a 25-year strategic partnership finally kicks off, India's relations with Iran can cool off once again. Likewise, the Indo-US economic and strategic relationship has also had an impact on trade ties with Tehran, as New Delhi reduced its oil imports after the imposition of sanctions.
Meanwhile, negotiations between China and Iran continue at a snail's pace and it is possible that an agreement will be inked in the months ahead. Apparently, Iranian Foreign Minister Mohammad Javad Zarif is planning to visit China "in the near future" to finalize the modalities of the "Comprehensive Cooperation Plan between the People's Republic of China and the Islamic Republic of Iran."
According to the Iranian president's chief of staff, Mahmoud Vaezi, "The documents of 25-year relations between Iran and China is very important. Iran-China relations have been expanded and deepened in various political and economic sectors. This document will make it possible for us to purposefully draw plans for the activities of various institutions of the country."
Opposing such a deal, around 100 prominent Iranians have written a letter to United Nations Secretary-General Antonio Guterres. Expressing concern, the signatories of the letter state that "the Islamic Republic intends to tether Tehran to Beijing politically and embed China into the economic and social fabric of Iran" in a way that will "severely restrain its political and economic sovereignty."
https://www.al-monitor.com/pulse/originals/2020/10/india-iran-ties-singh-jaishankar-china-beijing-chabahar-port.html
-----
What Palestinians Expect From a Biden Presidency
By Najla M. Shahwan
October 09, 2020
Next month, U.S. presidential elections will take place in which Republican Party nominee President Donald Trump will face Democratic Party nominee and former Barack Obama administration Vice President Joe Biden.
Biden's chances of winning the November presidential election appear to be very high, and because of his extensive experience in foreign policy, many foreign leaders are reexamining his political record, especially in the foreign policy arena of the Middle East and his policy toward the Israeli-Palestinian conflict.
Palestinian leaders hope Democrat Biden, if elected, will tone down Washington's pro-Israel policies and Palestinian-Americans have been backing his campaign for a critical change toward the Israeli-Palestinian conflict.
Trump's Biased Policy
Soon after its inauguration, the Trump administration opened a new chapter in U.S. policy toward the Israeli-Palestinian conflict, taking draconian measures against key Palestinian issues.
Several moves have taken place under the Trump administration that mark a clear departure from the Oslo Accords in favor and support of Israeli plans to annex more than 30% of the occupied West Bank and design a new settlement of the conflict according to Israel's interests and in violation of international law.
In late 2017, only a year after he took office, Trump recognized Jerusalem as the capital of Israel and relocated the U.S. embassy from Tel Aviv to Jerusalem, denying Palestinian's right to east Jerusalem as their future capital.
A similar dangerous approach was taken by the Trump administration denying the right of return for Palestinian refugees whose families had been displaced by the Israeli occupation in 1948. In September 2018, Nikki Haley, the former U.S. ambassador to the United Nations, stated that the Palestinians' aspirations for the return of refugees and their descendants to their homes within the pre-1967 borders were off the table.
In the same year, the Trump administration cut all U.S. funding to United Nations Relief and Works Agency (UNRWA) whose role had been to provide basic social services to around 5 million Palestinian refugees in Gaza, the occupied West Bank, Jordan, Syria and Lebanon.
In addition, the U.S. ceased all United States Agency for International Development (USAID) assistance to Palestinians in the occupied West Bank and Gaza.
These steps were widely perceived as a way of applying pressure on Palestinian leaders to engage in peace talks with Israel and the White House before the Middle East peace plan was officially declared.
Moreover, in September 2018, the Trump administration announced the closing of the Palestine Liberation Organization (PLO) office in Washington, and the U.S. Department of State stated that this decision was "consistent with the administration and congressional concerns with Palestinian attempts to prompt an investigation of Israel by the International Criminal Court (ICJ)."
On Jan. 28, Trump announced his so-called "peace plan" which was designed in all its aspects to serve the interest of the Israeli occupier, denying all Palestinian historical rights in Palestinian lands.
The plan was heavily tilted in favor of Israel, offering the Palestinians limited sovereignty in a small area of about 70% of the occupied West Bank and Gaza for a state, with no authority over territorial waters, borders or security.
The plan also rejects the long-standing Palestinian claim of east Jerusalem as the Palestinian capital and control over the Holy Haram al-Sharif.
The 181-page plan – dubbed the "Deal of the Century" and designed by Trump's son-in-law and adviser Jared Kushner – was vehemently rejected by the Palestinian leadership.
Trump's foreign policy concerning Israel is very clear. During his term, the president and his administration proved through statements and actions that the U.S. strongly supports the Jewish state, without any consideration for justice or ethics.
Biden vs. Trump
With the U.S. battling a resurgence of COVID-19 as daily cases and the number of fatalities continue to climb, the next president of the U.S., whether Trump or Biden, will have to focus almost entirely on conquering the pandemic, rebuilding the economy and restoring millions of lost jobs.
For Biden, reversing many of Trump's controversial domestic policies will keep him busy, meaning that, for many months, foreign policy will take a backseat.
As for the Israeli-Palestinian conflict, Biden said that his first task will be repairing much of what he and his supporters consider to be damage done by Trump, who demolished long-standing norms and decades of U.S. policy regarding the Israeli-Palestinian conflict.
Biden told U.S. Jewish donors during a call last May that he would "reverse" Trump's Israel policies that he said damaged the chances of a peace agreement with the Palestinians. He pledged to restore diplomatic ties with the Palestinian Authority (PA) and push both sides toward a two-state solution, reiterating his opposition to Israeli Prime Minister Benjamin Netanyahu's proposed West Bank annexation while vowing not to reduce or withhold U.S. military aid to the Jewish state.
"I do not support annexation," Biden told the donors. "I'm going to reverse the Trump administration's steps that I think significantly undercut the prospects of peace."
This includes repairing damaged ties with Palestinian leaders and resuscitating aid to the PA and funding humanitarian programs.
The U.S. had maintained a neutral stance for decades toward the claims on east Jerusalem, and its final status was meant to be decided in the latter stages of peace talks. Biden's advisers say that he will not return the U.S. embassy to Tel Aviv, but that he would reopen a U.S. consulate in east Jerusalem that would cater to Palestinians and allow a Palestinian de facto embassy in Washington.
As for the two-state solution, unlike Trump, Biden supports the creation of an independent Palestinian state alongside Israel.
"A priority now for the cause of Israeli-Palestinian peace should be resuming our dialogue with the Palestinians and pressing Israel not to take actions that make a two-state solution impossible," Biden told the Jewish Telegraphic Agency last May.
Biden's pro-Israel positions have been well known since he was vice president. He helped ensure unwavering support for Israel's security and was a key advocate in securing support for lifesaving technologies like the Iron Dome, David's Sling and Arrow 3 anti-rocket and missile defense systems. On the other hand, Biden helped shape the unprecedented $38 billion, 10-year, memorandum of understanding (MoU) between the U.S. and Israel signed in 2016, which was the largest such military aid package in U.S. history.
Biden's views on Israel were made clear in a May 18 statement on his campaign website entitled "Joe Biden and the Jewish community: A record and a plan of friendship, support, and action."
It opened by conflating the Jewish state with Jewish values and went on to brag about Biden's role in increasing military aid to Israel at the end of the Obama administration. It also promised that Biden, in violation of the First Amendment, would continue attacks on individuals and organizations that boycott Israel for political reasons and referred to Palestinian "choices" to commit violence.
Although Biden describes himself as a Zionist and a "stalwart supporter" of Israel, many Democrats are voicing opposition to Israeli policies against Palestinians ahead of the general elections in November. If Biden has a true desire to facilitate real change in the occupied Palestinian territories, he must acknowledge the asymmetric power structure that has enabled Israel's oppression of the Palestinians and the occupation of their land.
Although Biden's views differ from those of democratic voters, these views remain significantly different from Trump's. Even if Biden does not make any moves in a more progressive direction, he is still more likely to be influenced by Palestinian rights advocates.
Biden may not be perfect, but he is the only hope for the Palestinians after Trump magnified the Palestinian misery, despair and oppression in a way his predecessors could not have imagined.
"If Mr. Biden is elected in November, we hope that it will be a totally different dynamic," Palestinian Prime Minister Mohammad Shtayyeh said last July during a virtual conference with the Carnegie Endowment for International Peace.
No matter how negatively Palestinians view Biden, the destruction a second Trump term could cause to them and their cause is unimaginable.
Trump will continue with his extreme policies, and he would do everything possible to annex as much of Palestinian areas as he can in four years, leading to Israeli sovereignty over all of the West Bank.
Although Palestinians do not expect much from Biden, the best that they can hope for from a Biden government is undoing much of the damage done by Trump. Although Democrats have failed previously to turn their rhetoric about a two-state solution into reality, Palestinians hope that Biden can bring about a real change this time and not only preserve the status quo.
----
Najla M. Shahwan Palestinian author, researcher and freelance journalist; recipient of two prizes from the Palestinian Union of Writers
https://www.dailysabah.com/opinion/op-ed/what-palestinians-expect-from-a-biden-presidency
-----
URL: https://www.newageislam.com/middle-east-press/middle-east-press-on-gender-equality-myanmar-india-iran-relationship-and-palestine-new-age-islam-s-selection-9-october-2020/d/123086
New Age Islam, Islam Online, Islamic Website, African Muslim News, Arab World News, South Asia News, Indian Muslim News, World Muslim News, Women in Islam, Islamic Feminism, Arab Women, Women In Arab, Islamophobia in America, Muslim Women in West, Islam Women and Feminism