By New Age Islam Edit Bureau
30 September 2020
• As China-Pakistan Ties Become Wider, India Must Prepare For Implications
By Shalini Chawla
• US Vs Trumpistan: The Current Occupant Of The White House Says He Won't Vacate Even If He Gets An Eviction
By Jug Suraiya
• Let's Live A Happier Life In Gratitude
By Pratiksha Apurv
-----
As China-Pakistan Ties Become Wider, India Must Prepare For Implications
By Shalini Chawla
September 30, 2020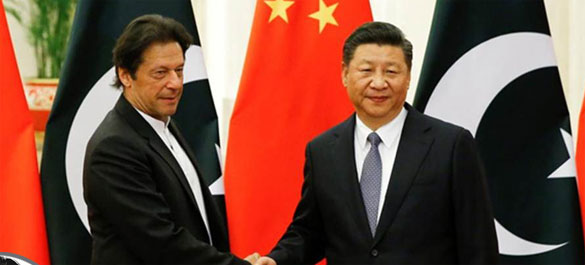 China's President Xi Jinping meets with Pakistan's Prime Minister Imran Khan in Beijing (Reuters/File)
-----
With the Financial Action Task Force (FATF) meeting in sight, Pakistan is gearing up to gather support from China to avoid the blacklisting. Reports suggest that Islamabad is likely to persuade the US to support it as it feels it can leverage its much-lauded role as a successful negotiator in the US-Taliban agreement signed on February 29. While Pakistan will have support from Turkey and Malaysia, Beijing is expected to push hard in Pakistan's favour at the meeting. Pakistan has been on the FATF grey list since June 2018 and even though Islamabad is getting its progress report ready, there is little evidence to suggest that its faith in the use of terrorism as a state policy against India will change.
Pakistan's growing alliance with China has been a major factor that has alleviated international pressure on it, altering its strategic calculus. Beijing's all-out support to Pakistan provided room to shrink Islamabad's reliance on the West (especially the US). Importantly, Pakistan's military build-up has continued with Chinese defence imports despite its economic slowdown and mounting debt.
China's assistance to Pakistan over the last six decades has expanded from a purely military relationship to economic and diplomatic levels. Beijing's weapon supply not only added to Pakistan's defence capability but also strengthened its will to carry out a proxy war through terrorism in India, without the fear of being defeated in retaliatory Indian aggression.
C Raja Mohan writes: There is no happy end-state in India's relations with its neighbours
China's lavish military assistance to Pakistan has been on four critical fronts: Export of Chinese conventional military equipment; support in Pakistan's nuclear build-up; assistance to Pakistan's indigenous defence industry and intelligence sharing. The supply of Chinese conventional weapons started in the 1960s and 1970s with F-7s and MiG-19 fighters. In the 1980s, the Pakistan Army inventory had significant Chinese equipment including the T-59 MBTs, T-60 and T-63 Light Tanks, and Type 531 APCs. By the early 1980s, China had provided Pakistan about 65 per cent of its aircraft and more than 70 per cent of its tanks.
Pakistan started its naval acquisitions from China in the 1980s with a long-term objective of striking a deal for technology transfer for indigenous production in the future. In the last two decades, the focus of Pakistan's defence procurement has been on the build-up of its air force and the maritime strike capabilities of its navy. In these, technology transfer from China has been a key feature. The Aircraft Manufacturing Factory (AMF), under the Pakistan Aeronautical Complex (PAC) at Kamra, started production of the Karakoram-8 jet trainer in collaboration with the China National Aero-Technology Import and Export Corporation (CATIC). JF-17 is co-developed by Pakistan and China and reports suggest the PAC has been producing 58 per cent of the JF-17's airframe, and China's Chengdu Aircraft Industry Corporation 42 per cent of it. In 2006, the Pakistan Navy ordered four F-22P-type frigates from China and it was agreed that the fourth F-22P will be manufactured in Pakistan at a Karachi shipyard. PNS ASLAT is the first indigenously built frigate of the navy and the production was done in collaboration with the China Shipbuilding and Trading Company.
On the nuclear front, Pakistan received help with the reactor, weapon design as well as nuclear material (in the 1970s and 1980s). China continued missile technology assistance to Pakistan and the technology of the Chinese M-11 was used by Pakistan to develop missiles, including Hatf-3/Hatf-4 (based on M-11) and Hatf-6 (based on Chinese M-18).
Ram Madhav writes: As Chinese ambition expands, Delhi must turn towards PM Modi's principle of 'together we grow'
The intelligence-sharing cooperation between the two countries has deepened and reports suggest posting of Pakistan's ISI officers (from this March) to China's Central Military Commission's Joint Staff Department. The alliance expanded into an economic partnership with the China-Pakistan Economic Corridor, which Pakistan sees as a game-changer. Beijing's diplomatic support to Pakistan has grown significantly after the revocation of Article 370 and China has repeatedly raised the Kashmir issue at the UN Security Council.
It looks like China wants its alliance with Pakistan to serve as an exemplar to smaller nations in South Asia and the Middle East to fulfil its boundless strategic and economic ambition. The Sino-Pak nexus is expected to grow further in the coming years and India needs to be strategically prepared to deal with the implications of the alliance.
----
Shalini Chawla is distinguished fellow, Centre for Air Power Studies
https://indianexpress.com/article/opinion/columns/china-pakistan-india-fatf-6636049/
----
US Vs Trumpistan: The Current Occupant of The White House Says He Won't Vacate Even If He Gets An Eviction
By Jug Suraiya
September 30, 2020
Following reports that the US president (POTUS) won't quit the presidency and the White House even if he loses the election, Second Opinion did a phone interview with him.
Second Opinion: Mr POTUS, some Indian netas hang on to their official residences long after they're no longer in office, but your saying that you won't give up the White House even if you lose the election is a first for American politics. How do you justify it?
POTUS: I justify it by saying that those darned Damnocrats as I call 'em are turning this so-called election into a scam, a hoax, by bringing in this male-in ballet. Why can't women also ballet? Heck, I like women. In fact, some say I've been known to like 'em a little too much. Heh, heh!
SO: Yes. So it's said. But it's not male-in, as in the male gender, it's mail-in, as through the postal system. And it's not ballet but ballot.
POTUS: Yeah? Whatever. Anyway, even if I lose by the popular vote as I did the last time, all those electoral colleges like Yale and Harvard will help me win as they did before.
SO: I think those electoral colleges are different from colleges like Yale and Harvard. But do you feel that the law which says that a US president can't remain in office for more than two terms should be scrapped so that you can remain POTUS for a third term, and more?
POTUS: Sure. Why the heck shouldn't I? What's the point of reinventing' the wheel, over and over? If folks way back, when the first wheel was invented, had said: Hey, let's reinvent it every four years, maybe try and give it a square shape next time, or a triangle, we'd still be stuck in the Stone Age, and livin' in caves or something. So why keep reinventing the presidency? Just stick to the POTUS we've got – me. And after me there's always Ivanka.
SO: This sounds like Trumpistan. What happens to democracy?
POTUS: Along with the Damnocrats, it gets the boot. God bless America!
SO: We might need to change that to God save America….
https://timesofindia.indiatimes.com/blogs/jugglebandhi/us-vs-trumpistan-the-current-occupant-of-the-white-house-says-he-wont-vacate-even-if-he-gets-an-eviction-f0-9f-98-8a/
-----
Let's Live a Happier Life In Gratitude
By Pratiksha Apurv
September 30, 2020
Our well-being in testing times is linked to both physical and mental health. Greater happiness is now needed more than ever before and that is precisely the reason why we should start our day by thanking existence for this priceless gift called life.
When we look at the trees, mountains, rivers, the whole of nature outside of our home, one thing in common is that all seem to be full of life, yet as though in deep, silent prayer. We feel speechless, with a deep sense of gratitude. Prayer exists in the inner realm, at the very core of our centre. Researchers are now discovering that the sense of gratefulness not only has a profound impact on our overall health; it also helps in reducing depression, anxiety and in treating sleep disorders.
Professor Alex Wood and his team with Jeffrey Froh and Adam Geraghty in 2010 published a paper titled 'Gratitude and Well-Being: A Review and Theoretical Integration'. They concluded that gratitude is related to a variety of clinically relevant phenomena, including psychopathology depression, adaptive personality characteristics, positive social relationships, and physical health, particularly stress and sleep. The paper also quoted a study conducted on a community of 247 people who were showing signs of excessive worrying and anxiety disorder. Through controlled gratitude intervention, they found that a sense of gratitude was effective in reducing both body dissatisfaction and excessive worry. The researchers also quoted a previous study conducted in 2003 by Emmons and McCullough, where participants were asked to maintain a daily list of events for which they were grateful, including even just waking up in the morning. The study clearly concluded that 'gratitude is strongly related to well-being.'
Krishna in the Bhagwad Gita said to Arjuna, "Tam eva sharanam gachchha sarva-bhavena bharata, Tat-prasadat param shantim sthanam prapsyasi shashvatam" – Hey Arjuna, your whole being needs to surrender for the gift of peace, happiness and that eternal abode. The surrender Krishna is talking about is deep gratitude towards existence, towards life and all the other valuable things it has given us.
When we thank the trees for the breeze in the morning, it becomes prayer and our being turns into pure gratitude. When we see misery, pain and suffering today, we should try helping someone who needs help. This action could bring joy to someone. Just like existence, we have many things in abundance and a sense of thankfulness can change our life. Osho observed that gratitude arises, whenever we start feeling God's presence all around, and that moment transforms our whole energy into gratitude and our whole being becomes a thanksgiving.
We should never think about existence's gift to us in terms of quantity – big or small. Sant Kabir said, "Tinka kabhu na nindiye" – We should not even show disrespect to a speck of dust. This is a deep message that everything around has its own value. We need to acknowledge that everything existence is offering us has the potential to bring harmony and balance in life. Gratefulness is true communion with existence and perhaps the only fragrance of the heart. We should be grateful for breathing, for being helped, and for the abundance. Let this feeling of deep gratitude become our intrinsic nature. And, slowly we will realise that all our complaints simply disappear, leaving us in an ocean of joy, celebration and total bliss.
https://timesofindia.indiatimes.com/blogs/toi-edit-page/lets-live-a-happier-life-in-gratitude/
----
URL: https://www.newageislam.com/indian-press/new-age-islam-edit-bureau/indian-press-on-china-pakistan-ties-and-us-vs-trumpistan-new-age-islam-s-selection-30-september-2020/d/122992
New Age Islam, Islam Online, Islamic Website, African Muslim News, Arab World News, South Asia News, Indian Muslim News, World Muslim News, Women in Islam, Islamic Feminism, Arab Women, Women In Arab, Islamophobia in America, Muslim Women in West, Islam Women and Feminism