By New Age Islam Edit Bureau
24 September 2020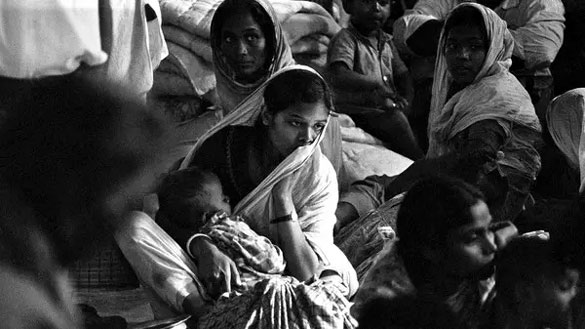 Biharis in the Mohamedpour refugee camp in Dacca, Dec. 22, 1971. (AP)
-----
Around 5 lakh Urdu speaking Muslims have been stranded in Bangladesh for the last fifty years as a stateless community with nowhere to go. Their parents had settled in the area now Bangladesh during the riots after partition. When Bangladesh came into existence, they overnight found themselves strangers in their own country. Bangladesh calls them Pakistani while Pakistan is not serious about rehabilitating them. They live in 66 camps across Bangladesh and are called Atke Poda Pakistani by the people in Bangladesh. Many of them have been born in these refugee camps and hope to go to Pakistan whom they call their homeland. They live in poor conditions, in temporary shelters with no electricity, water, and sewerage facility. Their children are not allowed to study in public schools. They are not allowed government jobs or medical facilities. The men and women do menial jobs to make ends meet.
For decades, they have been demanding that the governments of Bangladesh and Pakistan should arrange for their repatriation and there were some breakthrough too but political compulsions of successive Pakistani governments and also ethnic and linguistic bias of the Pakistani people have hindered the process of repatriation.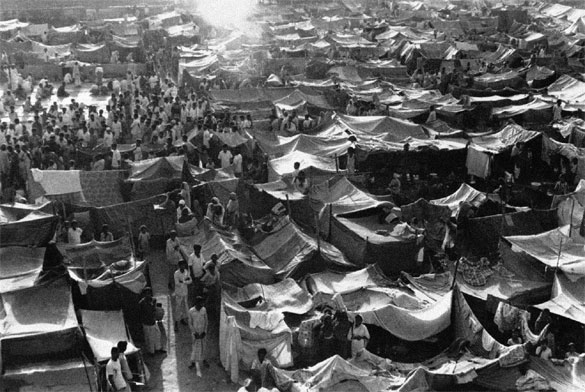 View of the Bangladesh government run camp for members of the Bihari minority on March 4, 1972. (AP)
-----
In 1992, during the Nawaz Sharif government a major breakthrough in the repatriation process was witnessed after the Nawaz Sharif and Khaleda Zia signed a joint statement for the repatriation of the stranded Pakistanis.
Earlier Rabita Trust was established by the Pakistan government under General Ziaul Haque in July 1988 to build 40000 houses in Punjab.
Under the agreement between Nawaz Sharif and Khaleda Zia the first batch of 325 Biharis arrived in Pakistan on January 10, 1993. But on the very next day on January 11, a Sindhi nationalist organisation Jeyay Sindh exploded a bomb in a Bihar colony killing 13 people. This was a message from the Sindhis to the Biharis and to the government that tbey would not accept the immigrant Urdu speaking Biharis because they feared that their arrival would threaten the demographic balance of the area.
However, the Parliamentary Affairs Minister announced that the stranded Pakistanis would be rehabilitated in 32 districts of Punjab and would be given houses and jobs. The announcement came on January 12, 1993 and on January 23, the Sindhis exploded two bombs in shops killing 22 people and injuring more than 100.
The opposition of the Sindhis put the Pakistani government on the back foot. The Rabita Trust had acquired funds of about $200 million for the purpose. About 1000 houses had been built with the funds acquired from Islamic countries. But in 1993, the repatriation process was stopped. During Pervez Musharraf's rule, the Trust was frozen. About $40 million were left unutilised.
But the Urdu speaking stranded Pakistanis in Bangladesh continued with their struggle. They held protests, gave memorandums and staged rallies in Dhaka demanding early repatriation. NGOs like Friends of Humanity, OBAT Helper, and Muslim Welfare Development Organisation raised their issue on international forums like OIC with little success. After Shaikh Hasina came to power, she promised to push for the repatriating process but her government did not do much in that direction.
During the government of Benazir Bhutto repatriation process got another jolt as Pakistan's interior minister Naseerullah Babar said that the Biharis would not be repatriated. He even said that there were 2 million illegal Bengali immigrants in Pakistan and they would be deported to Bangladesh. Benazir Bhutto said that she opposed the repatriation of the Biharis because they posed a threat to the unity and security of Pakistan. In October and November 1995, 280 Bengalis were deported to Bangladesh in two batches. Bangladesh arrested them and said that it would not take them back as they were not Bangladeshi citizens.
However, after coming to power again, Nawaz Sharif reiterated his government's commitment to repatriation. His government asked Rabita Alam Islami for funds worth $200 million. He gave the assurance that once the funds were available, the repatriation process would be started. However, it seems his government was more interested in mobilising funds at the pretext of getting funds than in the repatriation of Pakistanis as repatriation was not done.
Losing hope of getting repatriated, the Biharis, as they are called in Bangladesh decided to change their policy. They decided to get Bangladeshi citizenship and settle down as the citizens of the country where they have spent 50 years. Their children have been born and brought up in Bangladesh. So in 1996, 2200 of 40000 stranded families applied for Bangladeshi citizenship clamming that they have been born in Bangladesh and their children have adopted Bengali language and culture.
In 2008, a Dhaka High Court gave a landmark judgment granting those Biharis who had been born after 1971 the citizenship of Bangladesh. But Bangladesh government only issued them voter ID cards to hoodwink the court. The Biharis are now allowed to vote in elections but are not entitled to any civic facilities. They live in dilapidated houses in crowded colonies. The OIC provides financial assistance to run the 66 camps in Mirpur, Dhaka, Geneva, Rangpur and Otver towns.
NGOs have time again requested the Pakistan and Bangladesh government to start the repatriation process and have requested the OIC to include the issue on its agenda. But no one seems to be serious about it. Imran Khan Government has also not shown any concern for the Pakistanis stranded in Bangladesh. His heart beats only for Kashmir. Pakistan's leading Urdu newspaper started Nawa-e-Waqt Fund for the stranded Pakistanis in 2002 and has reportedly accumulated funds worth Rs 10 crore. But how much financial help it has provided to them is not known. The Urdu speaking Biharis living in camps do not see an end to their plight and have almost lost hope of starting a new life of dignity and prosperity in Pakistan.
URL: https://www.newageislam.com/islam-and-sectarianism/new-age-islam-edit-bureau/no-end-in-sight-to-the-plight-of-the-stranded-pakistanis-in-bangladesh/d/122937
New Age Islam, Islam Online, Islamic Website, African Muslim News, Arab World News, South Asia News, Indian Muslim News, World Muslim News, Women in Islam, Islamic Feminism, Arab Women, Women In Arab, Islamophobia in America, Muslim Women in West, Islam Women and Feminism