By New Age Islam Edit Bureau
25 September 2020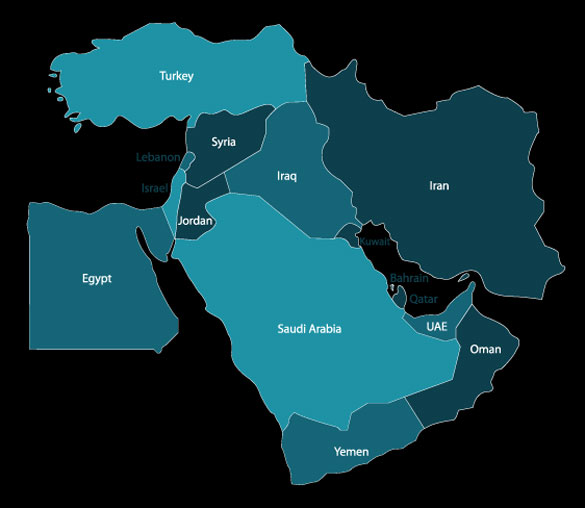 • Hamas Opens Up On Arms, Missile Supplies from Iran
By Adnan Abu Amer
• Need for a Comprehensive Policy to Counter Iran
By Dr. Majid Rafizadeh
• Decentralization Might Be the Best Solution for Lebanon
By Khaled Abou Zahr
• Lebanese Maneuvers Produce Same Mediocre Results
By Dr. Dania Koleilat Khatib
------
Hamas Opens Up On Arms, Missile Supplies from Iran
By Adnan Abu Amer
Sep 24, 2020
While Hamas had for years been keen on hiding how it was receiving its weapons and combat equipment from outside the Palestinian territories, it decided to unveil, for the first time ever, some of these security and military secrets.
The program "What is Hidden is Greater" broadcast by the Qatari Al Jazeera channel on Sept. 13 presented exclusive footage showing members of Izz al-Din al-Qassam Brigades, the armed wing of Hamas, collecting Iranian Fajr missiles and Kornet Anti-Tank shells. Hamas said the movement received those weapons by land and sea, bypassing military bases, aviation and maritime patrols, and it revealed the manufacturing of new missiles constructed of Israeli missile remnants from the 2014 war on Gaza.
The program was presented by Palestinian journalist Tamer al-Mashal and hosted by Ismail Haniyeh, head of Hamas' political bureau, and a number of Hamas military leaders.
During the program, Haniyeh claimed the United States tried to open a discreet channel with Hamas, but the group refused to do so. The United States has meanwhile sanctioned Hamas and Haniyeh as terrorists. US Ambassador-at-Large Nathan Sales, the State Department's coordinator for counterterrorism, slammed Haniyeh during a press briefing on Sept. 17, saying, "Our position is very clear. Hamas is a designated terrorist organization. … We do not regard him as a legitimate political actor."
Rami Abu Zubaydah, a Palestinian military expert and part-time researcher at the Egyptian Institute for Studies, told Al-Monitor, "Hamas' sudden disclosure aims to prove that the [Israeli] siege on Gaza has not prevented it from developing its military infrastructure, given the strenuous efforts it has been deploying to confront Israeli plans to prevent the arrival of weapons and ammunition supplies and to manufacture whatever missile components are available locally. This comes at a time when Arab-Israeli cooperation has emerged in a bid to weaken the Iranian-led axis of resistance that includes Syria, Gaza and Lebanon. It also comes in light of new alliances in the region to place pressure on Hamas."
Hamas' attempts to acquire weapons and equipment face many obstacles. Besides Israel, the Egyptian border with Gaza has been witnessing accelerated events since 2013. The Egyptian army targeted the border tunnels used to smuggle weapons inside Gaza. Also, deep-water basins have been dug on the Egyptian side of the Gaza border to prevent the digging of such tunnels and create a buffer zone. Buffer walls were constructed along the border, and most recently, the Berenice military base was established [by Egypt] on the southern coast of the Red Sea in January 2020, with Emirati funding, to prevent Hamas from obtaining weapons.
Mahmoud Mardawi, a member of Hamas' national relations bureau and a former leader of al-Qassam Brigades, told Al-Monitor, "Hamas wanted to shed light on the [past] efforts of Syria, Iran and Sudan in supplying it with weapons and equipment. This explains, according to Hamas, the conspiracy against Sudan to hinder its role in serving the Palestinian cause (in reference to the 2019 coup against the former regime). Syria is already absent due to its preoccupation with its civil war. Meanwhile, Iran continues to support us without restrictions or conditions," he added.
Hamas enjoyed strong ties with the former Sudanese regime of Omar al-Bashir. Sudan had for years helped smuggle weapons to the Gaza Strip through the Sinai Peninsula in Egypt. That is, until the coup against Bashir, when Sudan cut ties with the Palestinian movement. For its part, Syria had long supported Hamas on the military level, before the civil war broke out.
Meanwhile, an arms dealer in Gaza revealed to Al-Monitor on condition of anonymity that "the military factions in Gaza, headed by Hamas, possess distinct types of Iranian R-160 and Fajr-5 missiles with a range of 100 kilometres (62 miles). They also have drones and anti-tank missiles and shoulder-launched rockets produced by Russia. They also plan to acquire Chinese C-704 missiles, anti-ship missiles with a range of 35 kilometres (21 miles) and radar systems for guided missiles."
The source added, "The weapons needed in Gaza are the Grad missiles, the upgraded Katyusha with a range of 40 kilometres (24 miles), anti-armour charges, explosive belts, hand grenades with a range of 150 meters, rocket-propelled grenades and anti-aircraft machine guns."
Wassef Erekat, a former PLO artillery unit commander, told Al-Monitor, "Hamas' disclosure will fuel more Egyptian concerns and lead Egypt to tighten the siege on Gaza even though the movement's weapons are locally manufactured or recycled and have a shelf life and expiration. These weapons do not meet the international weapons production standards, and a number of harmful criteria, such as humidity, temperature and gravity, may affect them."
The Israeli Ministry of Defense has issued several reports about weapons smuggled into Gaza in special packages delivered by speedboats from Egyptian and Lebanese ports and left in the Mediterranean Sea, or in barrels thrown from a specific distance into the water within accurate measurements of the water movement and air currents capable of leading them to the shores of Gaza. It is very difficult to stop such operations because it is impossible to monitor every centimetre of the coast to try to find such small packages, according to the ministry.
Hussam al-Dajani, a political science professor at Al-Ummah University in Gaza, told Al-Monitor, "The timing of Hamas' disclosure of its military secrets is not spontaneous, as it coincides with important events. Chief among these is the regional and international struggle over gas fields in the Eastern Mediterranean and the show of naval strength in the region. Second, it comes at a time when the Palestinian factions held a meeting in Beirut. Third, it coincided with the anniversary of the 1993 Oslo Accord and the Israeli withdrawal from Gaza in 2005. Fourth, it coincided with the normalization of some Arab countries' relations with Israel.
A Hamas official told Al-Monitor on condition of anonymity, "There seems to be a link between the timing of Hamas' revelations on Sept. 13 and the signing of the peace agreements between Israel on the one hand [and] the UAE and Bahrain on the other in Washington on Sept. 15. Hamas may be responding to these agreements by showing off its military [strength] against Israel, as the timing also coincides with the 15th anniversary of Israel's withdrawal from Gaza in 2005 — as if it was a message from Hamas that the withdrawal was a result of its military operations against the Israeli army and settlers."
As Hamas was revealing its secrets, the movement's military positions across the Gaza Strip were being hidden to avoid Israeli strikes. Hamas was also making sure to hide the trucks transporting weapons and workshops for arms manufacturing.
https://www.al-monitor.com/pulse/originals/2020/09/hamas-reveal-military-secret-weapons-smuggling.html
-----
Need For a Comprehensive Policy to Counter Iran
By Dr. Majid Rafizadeh
September 24, 2020
American officials this week announced that a full range of UN sanctions had returned on Iran, including a permanent extension of the arms embargo. Some observers debate the efficacy of these measures, particularly as the European powers have signalled that they will not enforce them. But the efficacy argument serves as secondary to a much more significant dimension of Washington's resolve: Holding Tehran accountable for its current and future transgressions.
Regardless of the immediate material impact on the regime's economic situation, accountability is a principle that undergirds a specific strategic calculus.
Consider the facts. American intelligence officials this month reported that Tehran had developed plans to assassinate the US ambassador to South Africa in retaliation for the elimination of terrorist mastermind Qassem Soleimani in January. Meanwhile, according to the International Atomic Energy Agency, Iran continues to increase its stockpile of enriched uranium, in violation of the 2015 nuclear agreement.
Tehran's terrorist activity has also escalated and, if left unchecked, such behaviour could simply spiral out of control. In 2018, a senior Iranian diplomat stationed in Vienna was caught red-handed by European authorities hand-delivering an explosive device to a terrorist sleeper cell as part of a plot to bomb a rally organized by the Iranian opposition group the National Council of Resistance of Iran (NCRI) in Paris. At the gathering were hundreds of international personalities, including the NCRI's President-elect Maryam Rajavi.
The detained diplomat, Assadollah Assadi, is scheduled to appear at a Belgian court in November to face trial. It is unprecedented in Europe's modern history for a sitting diplomat to be tried on charges of direct involvement in a terrorist plot. Over the past two years, seven other Iranian diplomats, including an ambassador in Albania, have been expelled for similar reasons.
Against this backdrop, a profoundly consequential question arises for Iran policy: If the Europeans and Americans fail to show Tehran that its malign actions carry serious consequences, then what will stop the further escalation of such acts? If Tehran is not held accountable when it acts with impunity, it will be emboldened to try and impose itself on the regional and international order. That is why the Iranian people themselves are calling for accountability.
Rajavi last week said: "Faced with executions and massacres, the people of Iran urge the US, and the UN Security Council in particular, to restore snapback sanctions stipulated in the six UN resolutions against the clerical regime in Iran. Otherwise, (Supreme Leader Ali) Khamenei will continue to ravage the nation, as his regime's survival depends on murder and suppression."
Containing the regime's regional meddling by eliminating Soleimani has already yielded historic results. As former US National Security Adviser Gen. James Jones told last week's Trans-Atlantic Summit on Iran Policy, the UAE and Bahrain's agreements with Israel show that "the circle of countries that are in direct opposition to what Iran is doing is growing by leaps and bounds."
It is remarkable that, even during one of the most divisive election years in US history, the same strategic principle has vocal adherents on both sides of the aisle. For example, Rep. Brad Schneider, a Democrat from Illinois, told the summit: "We must always play a leadership role in holding the Iranian regime accountable for its misdeeds abroad and against their own people." Similarly, Republican Sen. Martha McSally said: "The US and the international community must continue to hold Iran accountable for its human rights violations and reprehensible behaviour."
Both lawmakers were among the speakers who addressed the international summit on Iran policy, which was organized by the NCRI. It virtually linked 10,000 locations worldwide and was addressed by hundreds of public officials and lawmakers from Europe, the US and Canada. The high-profile speakers included Rudy Giuliani, Newt Gingrich, Joe Lieberman and more than 30 sitting members of Congress, including Sens. Roy Blunt, Marco Rubio, Ted Cruz, Kirsten Gillibrand and Bob Menendez. This shows that, despite their differences, members of both major US parties agree on holding the Iranian regime accountable for its malign actions.
Now, the US and European countries must pressure the UN General Assembly and Security Council to take action on the Iranian regime's atrocious human rights record. The objective should not simply be to prevent Iran from obtaining nuclear weapons; it should also be to put an end to Tehran's destabilizing behaviour in the region, stop its support for terrorism, and help the Iranian people have a representative, democratic and inclusive government. That is the ultimate strategic solution to the crisis.
Again, there is remarkable bipartisan agreement on supporting the Iranian people and the opposition. Menendez, the most senior Democrat on the Senate Foreign Relations Committee, summed this up by saying: "While in Congress we may have differing approaches about the best way to address the threat from Iran, rest assured that we remain united against the regime's fundamental abuses against its citizens."
----
Dr. Majid Rafizadeh is a Harvard-educated Iranian-American political scientist.
https://www.arabnews.com/node/1739556
-----
Decentralization Might Be the Best Solution For Lebanon
By Khaled Abou Zahr
September 24, 2020
Nostalgia is a drug and a poison. It is where we go when we have nothing more to hope for in the future or any inspiration left to create. The past is an artificial refuge, but it has once again become the refuge of the Lebanese. I say once again because, after the civil war started, we would repeatedly hear the same story from emigrants and broken Lebanese: "Lebanon was the Switzerland of the Middle East; a financial centre, a cultural centre." And this eulogy would always end with the key description that I never could bear to hear: "You could ski in the morning and enjoy the beach in the afternoon." Today, once again, I keep hearing people repeat these phrases — even people who would not have known Lebanon in its heyday, but are just living in the nostalgia of days described to them.
This new nostalgia we are witnessing is quite worrying, as it is an abandonment of everything. However, we can learn from other experiences in the history of nations. If we go back to the comparison with Switzerland, maybe we took it too superficially and could be inspired by that country's political system, which is a federal arrangement.
Switzerland has not always been a nation state. Previously, it was a loose alliance of autonomous cantons that came under a federal constitution in 1848. Like in Lebanon, no party dominates and, more importantly, each canton has its own constitution, parliament, government, and courts. The Swiss model is a well-balanced mechanism that caters for the country's many different aspects. It has four official languages and large geographical differences, but they coexist. Federalism was key to the transformation of Switzerland, as well as its neutrality among Europe's big countries, such as France and Germany. On a security level, each canton has its own police force, while the federal police organization focuses on federal competences.
The nation state of Lebanon has never been a viable solution in its current structure. And so I believe that we need to allow people to build their own fences, but as part of the same sovereignty: A highly decentralized system might be the only solution for Lebanon. Let each community have its own security, protection and electoral targets. Switzerland, like Lebanon, is a small country yet it has a political and legal structure that allows its various parts to live together.
Could we build this in Lebanon? Could we accept that we are in a crisis and need to move on to something new? Voices claiming that the only problem is confessionalism and that abolishing this will solve everything are making a mistake. Abolishing confessionalism would also condemn minorities, create the roots for another problem or build a ruthless dictatorship.
I tend to refuse the narrative that says we are all the same and there is no difference between us. Quite the opposite should be said. There are differences and we can recognize these differences while still living together under the rule of law. All Christian minorities need to feel represented. The Druze need to feel represented. Shiites need to feel represented. Sunnis need to feel represented. Every community needs to feel represented and protected by the nation. Today, Lebanon is ruled by the ruthless and the thugs. It cannot go on for much longer.
In an ideal world, we would say: "Let us cancel sectarianism and solve everything." But we are still attached to "blood and soil." Imagine abolishing all confessionalism in Lebanese politics and focusing on the hiring and nomination of people with power. Once tensions rise because there are more nominations from one group than another, then what? Until today, in Lebanon, religious alliances only lasted when there was one oppressor. The alliance between Hezbollah and the Free Patriotic Movement (FPM) is working because Hezbollah has the real power and the FPM is obeying. On the other side, the Future Movement, the Lebanese Forces and the Progressive Socialist Party have been unable to do the same with their allies and have ended up being torn apart.
In the private sector, I have personally never looked at religion, race or gender, just if someone has common work values and is dedicated. The same should apply to government, which should be based on competence and meritocracy, not people's blood line. Currently, in Lebanon, it is not even about being from the same minority, but being from the same family. The circle has gotten ever smaller; hence the protesters from across the minorities were screaming, "All means all." I even wonder if the Shiite community really considers itself to be protected and respected thanks to Hezbollah. Would a true nation not give them the same, but without having to show allegiance to anyone? It would be their right to live with their head up high and not thanks to a warlord or a clan leader. Don't we all have this same wish?
The risks of dissolution exist, but not only in Lebanon. Europe was built by tribes and even today we see demands for secession: Corsica from France, Catalonia from Spain, and Scotland from the UK. So why are we surprised if it is the case in Lebanon or even Syria?
Those who oppose a drastic constitutional change in Lebanon today are the same people who condemn Sykes-Picot and warn of a conspiracy theory of a new similar agreement every other season. Yet they are comfortable with the division it created. It is the same narrative that Syria and Iran have embraced.
It allows them to oppose international interference in statements only and insist that they protect minorities in the face of many Arabs. In fact, they crush minorities under their authoritarianism. It is quite deranging the damage these countries have done to our region. Their communist-religious vision has promoted sectarianism to hide their nepotism and corruption in every country they rule. It is also quite disturbing to see European countries accept these views.
There are things Lebanon can learn from Switzerland and Europe, but one main difference that we will always stumble on is that there is only one Swiss Armed Forces. So, regardless of our wish to be inspired by Switzerland, this would mean transforming the country and writing a new constitution. And with the position Hezbollah holds and its control over the country, this seems like a sterile discussion.
The latest events surrounding the government formation attempts seem to indicate that France will act with pragmatism and push for a solution that encompasses and even delivers on Hezbollah and Iran's demands. With Saad Hariri's continuous concessions, it seems that Hezbollah has enough submissive actors across the political spectrum to ensure its full control. In this sense, Lebanon might become more like Syria or Iran before it becomes a model of coexistence.
------
Khaled Abou Zahr is CEO of Eurabia, a media and tech company. He is also the editor of Al-Watan Al-Arabi.
https://www.arabnews.com/node/1739606
------
Lebanese Maneuvers Produce Same Mediocre Results
By Dr. Dania Koleilat Khatib
September 24, 2020
In a press briefing on Monday, ailing Lebanese President Michel Aoun, who had problems reading a scripted speech properly, and answered a journalist who asked where the country was heading to if a new government was not formed. He answered with a cold tone: "We are heading to hell."
The gimmick of the formation of a new government will not save Lebanon, as French President Emmanuel Macron is promoting. The problems and the solutions do not end with Prime Minister-designate Mustapha Adib or his predecessor Hassan Diab and their Cabinets, as both men are a cover-up for a corrupt power structure that uses every maneuver possible to stay afloat.
The first maneuver is the apparent rift between the Free Patriotic Movement (FPM) and Hezbollah. The president's party said it refuses Hezbollah's claim to the finance portfolio in the next government, stating that the different ministries are not dedicated to a particular confession. However, this show of integrity will not fool a sharp observer. The accord that laid the foundation of the Hezbollah-Aoun alliance will not be broken anytime soon. The FPM is a client of Hezbollah and it is impossible for Aoun to maintain his entourage and his base of supporters without the financial support of the Iran-sponsored group.
Nevertheless, as the ghost of potential sanctions comes to haunt Gebran Bassil, Aoun's son-in-law, the apple of his eye and the head of his political party, some distancing — at least publicly — and a controlled feud are deemed necessary. This will allow for the formation of a government: A government in which Aoun will have his share and that will have the blessing of Macron, who is supposed to offer legitimacy for this botched project among the international community.
Although Macron knows that none of the parties are really sincere about relinquishing power to allow for the formation of a real government of technocrats that will implement reforms, he still wants to score a win. If he admits defeat in his Lebanon initiative, he will lose clout on the international scene, as well at home. Macron cannot afford a loss of political capital, especially since he is counting on playing a more prominent role in the region as he seeks to lead European politics in the Middle East.
The Hezbollah-Amal Movement alliance has insisted on keeping the Ministry of Finance, hence positioning itself as the agent and legal guardian of the Shiite community. This meant another maneuver was needed. Former Prime Minister Saad Hariri presented an initiative that chimed with the Amal-Hezbollah demands, as he suggested that the finance portfolio be handed to a Shiite minister who would be named by the acting prime minister, rather than the Shiite alliance. They at first refused the initiative, only to later give positive signs and encourage France to push back the latest deadline for government formation that was supposed to expire on Wednesday evening.
One reason why Hezbollah and Amal want a minister of their own is to keep quiet some of their deals with the government. Though Hezbollah has funding from Iran, it has its own companies that are contracted by the Lebanese government. The last round of US sanctions targeted Hezbollah-linked companies. It will not want a finance minister that it cannot control and might uncover the dubious dealings that have been going on for years.
While waiting for the November presidential election, American policy is marked by indifference and a hands-off approach. It is limited to imposing sanctions on Hezbollah and its acolytes while taking a step back to watch the system that harbors the group crumble. So, with this American retrenchment and with the French president looking for a win rather than substance, a true solution is very unlikely. The next three months are leading Lebanon to hell regardless of whether or not a new government is formed. Economists are expecting that, with the depletion of the foreign reserves, the Lebanese pound's exchange rate with the US dollar will skyrocket, subsidies on essential goods will be lifted and the country will hit rock bottom.
To add to that, the country is witnessing occasional explosions, like the one seen at a weapons depot in Ain Qana this week. Analysts are saying the explosion seemed to carry the imprints of Israel. The problem is that, if Israel is planning to target all the arms warehouses in the country, it will greatly complicate the difficulties Lebanon is currently experiencing.
While Aoun on Wednesday gave a speech to the UN General Assembly and thanked the different heads of states that gave donations following last month's tragic Beirut blast, he does not realize that Lebanon is not at the center of any regional player's policy and leaving it to fail will not make any leader lose sleep, except for Macron perhaps. Nobody is really ready to bail out Lebanon unless it conducts reforms, but the current structure creates an inertia preventing that from happening. France might intervene with some aid for the upcoming weak government; however, this will only prolong the suffering of the Lebanese by slowing the meltdown process, rather than reversing it.
Unless there is a radical change, the country is indeed on its way to hell, as it was so bluntly put by Aoun, even if Adib does form a government.
------
Dr. Dania Koleilat Khatib is a specialist in US-Arab relations with a focus on lobbying. She is the co-founder of the Research Center for Cooperation and Peace Building (RCCP), a Lebanese NGO focused on Track II. She is also an affiliated scholar with the Issam Fares Institute for Public Policy and International Affairs at the American University of Beirut.
https://www.arabnews.com/node/1739566
URL:
New Age Islam, Islam Online, Islamic Website, African Muslim News, Arab World News, South Asia News, Indian Muslim News, World Muslim News, Women in Islam, Islamic Feminism, Arab Women, Women In Arab, Islamophobia in America, Muslim Women in West, Islam Women and Feminism