By New Age Islam Edit Bureau
5 October 2020
• Who Killed Babri?
By M L Kotru
• My Camera Had 'Evidence' Of Babri Masjid Demolition, but It Was Consigned To Bin of History
By Praveen Janin
• 28 Years After, Babri Masjid Demolished Yet Again
By T J S George
• High Stakes in Pakistan
By Tilak Devasher
• Parlous State Of Polarisation: How Did We Reduce Ourselves To Being Mere Hindus And Muslims?
By Zakia Soman
• Quality of Education, Not Religiosity, Must Be Road Ahead For Muslim Community
By J.S. Bandukwala
• Indo-Pak Trade Embargo Has Hit Punjab's Economy
By Ranjit Singh Ghuman
• Will 2020 End With A Third World War?
By Anil Gupta
-----
Who killed Babri?
By M L Kotru
October 4, 2020
File Pic
----
Who killed the late Babri Masjid in Ayodhya, 28 years ago? No one in particular, if you go by the findings of the court asked to fix responsibility for the demolition of the historic mosque, built by Emperor Babar, that fateful day in Ayodhya on December 6, 1992. Reminds me of the compelling manner in which a former Prime Minister, Mr. Chandra Shekhar, to wit, gave a few of us his account of the demolition. The man had apparently remained the whole day in touch with the Senior Cabinet Minister, Mr. Sharad Pawar, to wit, virtually giving him a blow by blow account of the demolition and urging him all the time to persuade his boss, P V Narasimha Rao, the Prime Minister to move in the Army.
Each time he got an alibi from the PM's House, until the mosque was razed. Rao, except once for his first call, did not take any of Pawar's subsequent calls. Leaving the marauders free to do whatever they willed, egged on by the presence of the BJP stalwarts. The rest is history including a Supreme Court ruling favouring construction of a "befitting" Ram Janambhoomi Mandir at the site of the martyred mosque.
The latest Judicial pronouncement did not really have much to do with the fate of the Babri Masjid; its purpose was to identify the prime movers of the demolition saga, the BJP stalwarts, headed by L K Advani who had earlier headed the Ram Janambhoomi Rath Yatra and was now seated on a decorated platform in front of which the demolition took place.
The purpose was to assess their role in the seizure and destruction of the 500 year old mosque and related happenings in Ayodhya on December 6, 1992. The latest verdict came after a painful wait, a sort of footnote eventually to the demolition of the mosque and the "go ahead" to the temple given by the Supreme Court.
The battle for the mosque was indeed lost the day the Supreme Court gave a nod to the temple being raised where had stood the Babri Masjid. A special CBI court had, however, continued to try the 32 accused including Advani, Murli Manohar Joshi and Uma Bharati.
The judge rejected evidence from photographs, videos, speeches of the accused, raised questions on the conclusions drawn by the prosecution and speaks of possible involvement of Pakistani intelligence agencies and anti-social elements and terrorists disguised as kar sevaks who had taken charge of the doomed mosque. No mention really of the presence of top BJP leadership on the platform at the site. The judge inferred there was no evidence that the accused had met "inside a room" to plan the razing of the mosque.
A bit of perverse reading of the evidence before the Court. Despite the Supreme Court calling the demolition an egregious violation of the rule of law this week's verdict by the CBI court gives an institutional sheen to the temple movement. The BJP even in government always drew a distinction between being named in a corruption case, a ground for resignation, and a political case like Babri it hemmed and hawed initially until Advani took out his Rath Yatra.
When it came to the title suit the consensus was it should be left to the Supreme Court and the criminal case arising out of the demolition of the mosque in the presence of the top leadership of the day of the BJP should continue to proceed in a CBI Court.
Then has come about the unravelling of the "legal" approval to the issue both launched under the BJP's watch. The upshot now in that Special Court: it has acquitted all the 32 accused in the demolition case. In the 2300 page judgement the court rejected all evidence from photos, videos and speeches of the accused, raised questions on the conclusions drawn by the prosecution and spoke of possible involvement of Pakistani intelligence agencies and terrorists disguised as kar sevaks brought together by the RSS – perverse assumptions to go by the available records.
To cut the sordid story short, the question who killed Babri Masjid must remain unanswered except for the facts that are known and have unfortunately gone unnoticed or deliberately ignored. The question now confronting is the call already given by right wing Hindu outfits, all owing allegiance to the saffron family, for the demolition of the mosques in Brindavan (to make room for a "grand" temple to mark out Lord Krishna's birthplace) and the one at Kashi Vishwanath, Varanasi to be dedicated to Lord Shiva.
There should be no problem in demolishing the existing mosques etc. at the two spots, Babri having set the pace. For the rest you can be sure accommodating legal system will be on hand to fill the blanks. Frankly, I am frightened by the tone of the saffron clothed men who have thrown the Vrindavan and Varanasi challenge and chosen to give it high priority. Official patronage is no problem. It's a matter so close to the hearts of the saffronites.
To sum up in the words of a national daily "The Babri Masjid was demolished in Ayodhya on December 6, 1992, but there was no demolition plan, nor any demolition men and women, just an on-the-spur outburst by unknown "anti-social elements". That's the essence of the verdict by the Special Court in Lucknow in the 28 year old case on Wednesday, acquitting all the surviving 32 accused. It challenges facts and does not promise closure".
https://www.greaterkashmir.com/news/opinion/who-killed-babri/
-----
My Camera Had 'Evidence' Of Babri Masjid Demolition, but It Was Consigned To Bin of History
By Praveen Janin
3 October, 2020
The special CBI court's verdict in the Babri Masjid demolition case has brought an end to a 28-year-old chapter of my life. I only wish it had been authored differently, and that the end had not left me confused.
As a photojournalist with The Pioneer, I know what I saw on 5 December 1992 in Ayodhya. My Canon (camera) was witness to the rehearsal that was undertaken by the kar sevaks and I had guarded the negatives like my babies, all through the years. I was scared that the slightest of moisture would destroy the negatives wrapped in polythene. My Canon was witness to everything — my pictures proving beyond doubt that the demolition of the Babri Masjid on 6 December 1992 was a calculated, meticulously planned exercise.
I remember the stinging slap my wife gave me, on a winter day many years ago, when our house was ransacked by robbers. While she had shed tears for the jewellery that the robbers had taken away, I had rushed in to see whether my negatives were safe. That's how precious they were to me.
All I am left with now, after years of numerous court appearances, is confusion, questions and the dilemma of how to make sense of my depositions in the court of special CBI judge Surendra Kumar Yadav, and my interactions with him.
On Tuesday, 29 September 2020, a day before the verdict was to be given, I woke up at 3:30 am to catch an early morning flight to Lucknow with ThePrint's senior assistant editor Ananya Bhardwaj.
We landed in Lucknow, and headed straight to Surendra Yadav's chambers, only to be told that the chances of getting an interview with him were between slim and non-existent. His security initially refused to even pass on my visiting card to him, telling us he was busy. He doesn't have the time to even talk to his wife, let alone answer the phone or entertain pesky journalists, we were told. But I persisted and requested his security to at least hand over my visiting card to the judge. Minutes later, we were ushered in.
Happy to see us, Yadav was gracious enough to give us some exclusive time. He told us how he had been burning the midnight oil, studying the voluminous evidence and writing the judgment.
He also surprised me by producing a business card that I had given him about two years ago when I was working with The Indian Express. He took it out of his wallet to show me. I was humbled to know he remembered me.
The next morning, on 30 September — the day the verdict was to be announced — Yadav gave us some more exclusive time as he called us over to his residence, before leaving for court. We met and chatted with his family, who also told us how hard the judge had been working on the case. We were offered ladoos when Yadav learnt it was my birthday. The family, too, wished me well.
I had the opportunity to click a few pictures of him — the candid brief moments as we followed his car on the way to the court. Memories of the time spent in court appearances flooded my mind. Yadav had presided over the hearings when defence lawyers had gone out of their way to discredit and humiliate me. They had called me a fake photographer who was out to make a quick buck. Yadav had been witness to all those moments and my old visiting card in his wallet was, for me, proof of my professional standing. I had felt validated by that one gesture of him. It had filled me with hope. A hope that India would be redeemed of that 6 December stain, when the composite fabric of our country was shredded by a perilous political campaign.
Minutes later, he announced the judgment, dismissing my pictures, among others, by pointing to a lack of evidence, and ruled that the demolition wasn't planned, acquitting all 32 accused in the case. My work had not passed muster in the eyes of the judge. My negatives, for all their worth, were consigned to the bin of history by the judgment.
https://theprint.in/opinion/my-camera-had-evidence-of-babri-masjid-demolition-but-it-was-consigned-to-bin-of-history/515822/
-----
28 Years After, Babri Masjid Demolished Yet Again
By T J S George
04th October 2020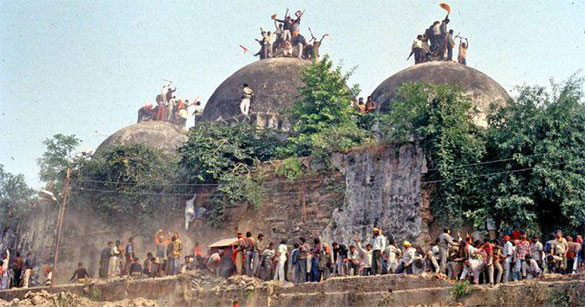 Finally, there is a new truth: There was no plan to destroy the Babri Masjid. The court has set free all 32 accused on the ground that there was no evidence to prove that they had conspired to bring the masjid down. If there was no conspiracy and no plan, the only possibility is that the big masjid fell down by itself. This is possible, given the notorious malpractices prevalent in India's construction business. Maybe the contractors used poor quality cement even in those days.
Since we are all patriotic, we must also have a second look at what we have been accepting as facts till now. More than a lakh of "volunteers" had assembled in Ayodhya. They were armed with tell-tale implements such as spades and ropes and crowbars. Providing inspiration from vantage points were political leaders such as L K Advani, Murli Manohar Joshi and Uma Bharti.
These are all known and recorded facts. They were legally authenticated by a judge named Liberhan who reported that Sangh Parivar organizations had collected the funds required for the operations and that kar sevaks had converged in Ayodhya and Faizabad with "army-like discipline" in a "well-orchestrated and planned manner". The theory now upheld by the CBI court is that Advani-Joshi was there to stop anti-social elements from destroying the masjid.
It is an endorsement that goes well with new notions of patriotism. Time was when the judiciary was an umpire feared for its uncompromising independence and its commitment to judicial autonomy. But ideas of patriotism and judicial independence have undergone changes in keeping with modern notions of rule of the people, by the people, for the people. The guiding principle today is: What is good for the rulers is good for the ruled.
It is another matter that the court's ruling carries little conviction with the public. Several organisations have already voiced criticism of it while moves are underway to go to higher courts on appeal. While such moves may proceed at their own pace, the implications of the current verdict can neither be missed nor ignored. That segments of the judiciary wish to be seen as more loyal than the king is now there for anyone to see.
The fall that began with Indira Gandhi's 1975 Emergency has become precipitous. It was to fight judicial honesty that she resorted to an extreme measure such as Emergency. She succeeded in subjugating the judiciary. Justice H R Khanna refused to be cowed down and paid his price by getting blacklisted.
What is disturbing is that the present judicial partisanship amounts to endorsing the Hindutva lobby's stance that the Mughal period of history must be erased from memory as well as from the records. Textbooks can be changed, but how practical is the view that remnants of Mughal glory must be wiped out as well? Apart from the Taj Mahal, these "remnants" include Delhi's Red Fort and the Agra Fort, besides landmarks like Humayun's Tomb, Fatehpur Sikri, Delhi's Jama Masjid, Akbari Fort and Museum at Ajmer, the splendid Taj-ul-Masjid in Bhopal and the Taj Mahal-like Bibi Ka Maqbara in Aurangabad.
It is a pity that globally admired masterpieces that qualify for preservation laws are seen in communal terms in today's India. A structure like the Allahabad Fort at the confluence of the Ganga and the Yamuna is not just a legacy of Akbar; it was also a tribute from the Mughal emperor to an area that had become a centre of pilgrimage for ascetics and which he had accordingly named Illahabas (blessed by God). Emperors of those days were often respectful towards worshippers of other gods. It is today's emperors who are intolerant of dissenters.
The area cleared by the demolition of the masjid was handed over by an obliging Supreme Court to the very demolition advocates who wanted to put up a Ram temple there. This was in spite of the Supreme Court describing the demolition as "an egregious violation of the rule of law". We are being tutored to understand varying meanings of terms like violation and rule of law, demolition and construction, politics of religion and religion of politics.
Now that judicial legitimisation has given a fresh new face to the Ram Janmabhumi concept, the Shilanyas of two months ago can be carried to its logical conclusion. On that day, 3,500 policemen, 40 companies of Armed Constabulary, 10 companies of the RAF and two Directors General of Police were deployed in Ayodhya. The Gods must have felt happy that India's police is there to protect them.
https://www.newindianexpress.com/opinions/columns/t-j-s-george/2020/oct/04/28-years-after-babri-masjid-demolished-yet-again-2205406.html
------
High Stakes in Pakistan
By Tilak Devasher
Oct 05, 2020
The political temperature in Pakistan has gone up several notches with the coming together of 11 disparate Opposition parties in an all parties conference (APC) on September 20. The meeting was notable for Nawaz Sharif's aggressive speech from London, as also the formation of the Pakistan Democratic Movement (PDM) with an agenda to unseat the 'selected' government of Imran Khan. Nawaz Sharif has posed the question and set the narrative that will dominate Pakistan politics in the immediate future: should the elected representatives rule the country or the establishment.
The Opposition had been struggling for the last two years to forge a strategy against the Pakistan Tehreek-i-Insaf government of Imran Khan. The example of Jamait-i-Ulema-i-Islam chief Maulana Fazlur Rehman being left alone when he staged a dharna in Islamabad in 2019 was one example of divisions within it. A major factor that brought the Opposition together was Imran's intolerance towards them, in fact, towards any form of dissent as well as his arrogance. As a result, a large number of Opposition leaders have been in and out of jails or have faced trials in one-sided accountability cases. Another critical factor was that the Opposition would lose its majority in the Senate in March, foreclosing any chance of checking the government in parliament and further narrowing the space for it to operate.
In his speech to the APC, Nawaz stated boldly that there was 'a state above the state in the country', and that the Opposition's struggle was against a 'parallel state' that had imposed an incapable person on the country through a rigged election process. The APC demanded Imran's immediate resignation, failing which the PDM would launch a three-phased programme of protests and rallies, culminating in a long march to Islamabad in January 2021. The first protest is slated for October 11 in Quetta. Unlike the past two years, where the individual Opposition parties attacked the government, now the Opposition's struggle would be directly against the establishment in which the protests against Imran would be a façade.
Nawaz had been silent for the past two years during which the Pakistan Muslim League-Nawaz (PMLN) had veered towards the accommodating politics of Shahbaz Sharif, which did not achieve anything in terms of let-up in the persecution of the party. Nawaz's hard-line articulation signalled the end to the policies of accommodation. Henceforth, his daughter Maryam would call the shots in the party in Pakistan and he himself will set the agenda from London. The APC's 26-point resolution that called for 'end of establishment's interference in politics' vindicated his position.
The Opposition has passed the first test — of coming together. The real test of staying together and choosing a leader of the PDM comes next, especially since most of the parties have a history of bad blood and mutual rivalries and have, in the past, fallen prey to the establishment's machinations. The other big test would be to translate the APC rhetoric and action plan into an effective movement within and outside parliament. Maulana Fazlur Rehman and his madrasa-based students and religious cadres will play a crucial role in such mobilisation. Failure to establish and sustain a strong physical presence on the streets would make the speeches and action plan meaningless.
Imran's government stands on a weak wicket largely because of his failure on practically every front, including providing good governance. The economy, which was already on a slippery slope, has been battered by the impact of Covid-19. Growth has slipped into the negative territory. Thus, even though it has underplayed Opposition unity, a lot of the government's attention henceforth would get diverted to their protests, further adversely impacting governance.
Government statements both before and after the APC, calling it anti-Pakistan, betrayed a sense of panic. Imran held that speeches against the government and state institutions were an attempt to appease the Indian lobby and that the Opposition wanted to create a rift between the government and the armed forces.
Since the government was unable to contain the fallout of the APC, the army jumped into the fray with a series of media leaks and statements in order to create rifts in the political alliance. These included disclosures made by DG ISPR on a private TV channel about two meetings held by PMLN leader Mohd Zubair with the army chief, thus trying to discredit the party. However, leaks about the meetings, instead of diluting the impact of Nawaz's speech or of the APC, only strengthened their validity.
The combined government/establishment strategy would be to create obstacles to ensure the Opposition is unable to conduct successful and well-attended rallies. Measures would include arrest of key Opposition leaders, denying permission for rallies and venues, engineering splits in parties and between parties, etc. However, they would have to contend with the combined political and cadre strength of a three-time PM with a strong base in Punjab and the street power of the Maulana in the other provinces.
Ultimately, the fallout of the APC will be less a test for the Opposition as for Pakistan. What is at stake is the future of a functioning democracy. If the Opposition falters or breaks ranks, the establishment would have won and Pakistan can bid farewell to a functioning democracy for the foreseeable future. If the Opposition stays the course, it would still find it difficult to prise the establishment away from political interference but at least a functioning democracy would have a fighting chance.
The die has been cast and the stakes for Pakistan are high. In this, Imran finds himself on the wrong side of the equation.
https://www.tribuneindia.com/news/comment/high-stakes-in-pakistan-151202
------
Parlous State Of Polarisation: How Did We Reduce Ourselves To Being Mere Hindus And Muslims?
By Zakia Soman
October 5, 2020
The CBI court judgment acquitting 32 accused in the Babri Masjid demolition is extremely disappointing. It has come closely after the Supreme Court judgment on Ram temple at Ayodhya categorically stated that razing the mosque was a "criminal act". These judgments are preceded by violence and lynchings in the name of Gau Raksha, and unrest owing to the Citizenship (Amendment) Act. All of this has a huge bearing on the future direction of our secular democratic republic.
The Ayodhya dispute has been at the centre of Indian politics for over four decades. We are a religiously polarised nation today. But we never wanted to be a religion based nation in the first place. Ours is a land where people of diverse faiths and belief systems have coexisted for centuries.
We won independence from the British thanks to a democratic freedom struggle, in which women and men of all religious backgrounds participated equally. We, the people of India, gave ourselves the Constitution with its values of equality, justice, democracy, pluralism and equal opportunity to all. In our democracy all citizens are equal irrespective of faith, caste, gender, language.
Gandhi, Nehru, Ambedkar, Maulana Azad and many other visionaries from the freedom struggle painstakingly laid the foundation of a plural and democratic nation. So, what went wrong? How did we reduce ourselves to being mere Hindus and Muslims?
Even as our society has been diverse and eclectic, forces of religious division and hatred have always existed amongst both Hindus and Muslims. The two nation theory was actively pursued by these forces. Jinnah wanted Pakistan and there were those who wanted a Hindu rashtra.
The outcome was a bloody Partition with loss of innocent lives and mindless violence. The Father of the Nation was assassinated because of his insistence on sarva dharma samabhava and Hindu-Muslim unity.
Most ordinary Indians wanted peace and prosperity then and they want it now, as well. Some elite Muslims, mainly from north India, migrated to Pakistan. The majority of Indian Muslims rejected the theocratic nation of Pakistan and stayed back in their own country. But the Hindu right still holds Indian Muslims responsible for the creation of Pakistan.
After Independence, even as we embarked on nation building through various development initiatives, communal politics continued to form the backdrop. The Congress brand of secularism translated into pandering to conservative Muslim leaders such as the Shahi Imam, or other such religious figures. This kind of secularism did not translate into better living conditions for Muslims who got marginalised politically, economically and socially.
On the other hand, this pandering to orthodox religious leaders gave rise to the "appeasement of Muslims" theory of BJP-RSS. On their part, even today they do not give tickets to Muslims in elections.
Congress appeasement of Muslim conservatives during the Shah Bano case helped RSS build up the Ram Janambhoomi movement. Thousands of lives were lost in the communal riots that followed countrywide. The Muslim masses paid a heavy price for this kind of politics and continued rigidity of the clergy. The women led movement against triple talaq was a refreshing change in recent years. It was supported by all except conservative clergy and so-called secular political parties.
Could the religious polarisation over Ayodhya have been avoided? It is no more relevant to talk about so-called archaeological evidence about a mosque or a temple originally existing at the disputed site. It is now only a matter of faith turned into majoritarian politics.
Back then in the 1980s, the Muslim leadership of Shahi Imam and Syed Shahabuddin should have conceded the birthplace of Lord Ram. They failed to do so. But that does not mean that those demanding a temple can freely raze the mosque. The courts have failed to provide justice in the matter.
Ordinary people have suffered for the follies of leaders. They have paid the price for divisive hate politics for too long. Collectively, we have paid a heavy price for politics of religious division through civic unrest and disturbances. We have witnessed several communal riots since Independence – Moradabad, Meerut, Bhagalpur, Nellie, Ahmedabad, Bhiwandi, Surat, Bombay, Muzaffarnagar, Delhi, the list is unending.
All Indians, including Muslims, want education, jobs, affordable housing, health services and an opportunity to flourish. Everybody wants safety and security to live and move freely. Everybody wants to enjoy individual freedoms without worrying about politics over places of worship. Nobody wants public discourse to be dominated by religious issues at the cost of real issues affecting people.
Indians are an eclectic mix of casual religiosity, agnosticism, spiritualism or even secularism and deep religiosity. It does not mean that they hate those from other faith systems and want their subjugation. Our political parties need to understand this.
The PM talked about Sabka Saath, Sabka Vishwas. But we are yet to see any further movement on this count. Everybody is happy to see a Ram temple at Ayodhya. But it is not going to resolve the crisis faced by the nation on the economic front or the agrarian front.
We have seen a blatant attempt to falsely give a communal colour to the fight against Covid recently. Such politics is not going to lead India into the future. The CBI court verdict is a deeply ominous pointer for the future direction of our vibrant nation.
https://timesofindia.indiatimes.com/blogs/toi-edit-page/parlous-state-of-polarisation-how-did-we-reduce-ourselves-to-being-mere-hindus-and-muslims/
-----
Quality of Education, Not Religiosity, Must Be Road Ahead For Muslim Community
By J.S. Bandukwala
October 5, 2020
Today, there are about 172 million Muslims in India. That makes it the country with the second-largest Muslim population. (File)
The first bonds between Islam and India occurred during the lifetime of the Prophet. In 631 CE, a mosque was established in Kerala. Prophet Muhammad was aware of India as can be seen by his comment that a pleasant breeze is blowing from India. Even the Karbala tragedy has references to India — Imam Hussain urges his opponents to stop the killing and let him migrate to India.
Today, there are about 172 million Muslims in India. That makes it the country with the second-largest Muslim population. Muslims are spread all over India. They range from Azim Premji of Wipro to Dilip Kumar. Three Muslims have been President. There are countless others who have occupied the highest posts — Idris Hasan Latif was Air Force Chief of Staff and Zafar Saifullah was Cabinet Secretary. M F Hussain is among our favourite painters, whose painting are sold for millions. Incidentally, he was hounded out of the country as one of his paintings was disliked by our religious censors. Yet, the community is largely uneducated and poor. Why are Muslims cut off from commercial and academic trends?
Part of the problem is Partition. We are still paying the price for Jinnah's folly. The violence spawned religious hatred and revived old conflicts concerning mosques and temples. In a sense, this religious madness has paralysed our country all these 73 years.
One such conflict was over the Babri Masjid-Ram Janmabhoomi. A sickening clash over a house of god ruined countless families. The tragedy was compounded by politicians who sought power by inflaming passions on both sides. I was a victim of this mad fury. I suffered heavily, financially and emotionally. God alone saved my only daughter from a tragedy. What did these politicians gain by destroying the lives of innocents, who had no link to the Babri Masjid?
It has been a long time since the British left. Jinnah got his Pakistan, but that too broke up on linguistic grounds, creating hell for millions who had to migrate, mostly on foot, across huge distances in search of peace and sanctuary. I wonder if politicians like Jinnah ever felt sorrow for what they inflicted. Tragically, we are still producing more such politicians.
How do we prevent such tragedies? On the Muslim side, they have to accept the reality of Partition. Equally, our Hindu brothers and sisters must accept that Muslims are a part of this country. There is no way we can remove such a huge population. No country will accept such a huge migrant inflow. We can see on our TV news the horror of people on boats trying to find safety in Europe. The CAA and NRC will only prolong the tragedy. Narendra Modi and Amit Shah must realise this.
The sight of 80-year-old Bilkis leading the Shaheen Bagh agitation was not a proud moment for our country. It reflects our sharp divisions, which have been made worse by the BJP leaders using foul language against Muslims. We live in an integrated world, . This was best reflected by Time magazine, which highlighted both Modi and Bilkis — a reminder that if only both can communicate civilly, our country can gain a lot.
The way out lies with the Muslims of India. They have to overcome their bitterness of the last 73 years. Jinnah will not come back. We have to lower the level of religiosity within the community. It is not conducive to good citizenship. The focus has to be quality education, business and industry, and most importantly, gender equality within the community.
We made a small beginning in Gujarat by forming Zidni Ilma Charitable Trust in 2005. It supports the education of Muslim boys and girls studying medicine, engineering and the sciences. Last year, we collected and distributed about Rs 80 lakh, benefiting over 540 students. This year we have started another scheme, with support from the Nobel Laureate Venki Ramakrishnan. We identified 10 girls, four Hindus and six Muslims, from a slum in Vadodara. They were studying in municipal schools at the secondary level. We got them admitted to a good school. I confess the task was tough. But the name of a Nobel winner counts. We pay for their school fees and transportation. It is costly. But it is an experiment worth completing.
----
J.S. Bandukwalais a former Physics professor and a human rights activist based in Vadodara
https://indianexpress.com/article/opinion/columns/the-way-of-the-school-6702883/
-----
Indo-Pak Trade Embargo Has Hit Punjab's Economy
By Ranjit Singh Ghuman
Oct 05, 2020
Though trade is an engine of economic growth, Indo-Pak trade also needs to be understood in its strategic politico-economic importance for both neighbouring countries. The relevance of the land route trade through the ICP-Attari, too, needs to be appreciated in this vein. Eventually, it has the potentialities to provide trade access to the Central Asia and Middle East, besides paving the way for developing friendly relations with neighbours, so important for India's aspirations of becoming a superpower. Both countries should act and behave in a responsible manner and keeping in view the larger interests of their citizens, they should resume trade at the earliest possible, notwithstanding their political animosity.
The strengthening of trade has huge potential for growth and employment not only for Punjab (border and landlocked state) but also for the north-west India. It is equally true for Pakistan's Punjab.
Immediately after Independence, India and Pakistan had a huge stake in each other's trade. However, over time, their bilateral trade witnessed a drastic decline, mainly because of the fear psychosis. Their trade relations have always been subject to a faceoff between economic rationality and politico-security rationality and the latter has always been the deciding factor.
The nine-year trade embargo, driven by the three-week war in 1965, supports such a perception. In the process, they lost an opportunity to reap the benefits of their huge trade potentials. The current trade embargo — virtual embargo in February 2019 when India imposed a 200 per cent customs duty and Pakistan imposed a trade embargo in August 2019 — is also a manifestation of their hostile political relations.
According to a World Bank report (2018), the bilateral annual trade potential between India and Pakistan is to the tune of $37 billion. In my PhD thesis (1985) on Indo-Pak trade, I estimated that in 1995, their bilateral trade should have been around $7 billion. However, their actual trade was just around $2.56 billion in 2018-19. Around 25 per cent of it is taking place through the ICP-Attari. Just imagine how much gains would have been there even if half of the World Bank estimated trade-potential could have been realised.
Paradoxically, informal trade between the two nations has always been there despite the trade embargoes — often via other countries, such as the UAE. The border and landlocked states, such as Punjab, have always been the worst sufferers in such a scenario as trade originating from Punjab and its neighbouring states becomes economically unviable as compared to the states having proximity to sea ports.
Exports originating from Punjab can reach Pakistan — through ICP-Attari — in much less time and at a much lower transport and trans-shipment costs as compared to the sea ports and via a third country. The same is applicable to imports from Pakistan.
A study by the Centre for Research in Rural and Industrial Development (CRRID), completed in August 2020, revealed that the current trade embargo has had a significant adverse impact on Punjab's economy. To disseminate the findings, we organised a webinar on September 14, in which 13 panellists comprising eminent scholars, diplomats, industrialists, exporters/importers from India and Pakistan expressed their views. Besides, about 75 other participants from the academia, civil society, traders and students attended the webinar. All panellists and participants advocated that the adverse political relations should not come in the way of normal trade relations as the latter can, rather, help normalise political ties.
We were expecting active participation of MLAs and MPs of Punjab as 41 MLAs and all 20 MPs were invited to the webinar, but no one, except one MLA, responded. Their presence at the webinar would have sent a positive message to the stakeholders, besides empowering them to formulate a collective and affirmative strategy to prevail upon the Union Government.
Our field study revealed that Punjab (border and landlocked state) and its stakeholders (exporters, importers, manufacturers, truck operators, porters, roadside eateries, filling stations, weighing bridges, retailers and wholesalers, private schools, health clinics, repair shops, auto-dealers and liquor shops, tea and beverages etc) have suffered huge losses in income and employment due to the closure of ICP-Attari for trade.
Entrepreneurs, truck owners and traders are unable to repay the installments of loans. A large number of truck owners had to sell their trucks at a much lower price to repay the loans and many trucks are lying idle and getting depreciated. The parents had to withdraw children from private schools, the seriously ill people are suffering for want of treatment, and many are facing mild to serious depression.
Our estimates have revealed that the above-mentioned service providers just in Amritsar district have suffered an income loss of about Rs 152 crore during the last 18 months of trade curbs and embargo. Exporters and importers have suffered an income loss of Rs 1,178 crore during the same period. Government agencies — Customs, plant protection, quarantine storage department and Central Warehousing Corporation — also lost revenues of about Rs 774 crore during the same period.
Based on these moderate estimates, the total income loss comes out to be Rs 2,104 crore during the last 18 months of trade curbs and embargo. This, however, does not include the financial loss to the manufacturers-cum-exporters and truck owners whose investment has been rendered idle, besides maintenance cost. Leaving aside the government revenue, most of the income loss is to the stakeholders in Punjab. The consequent operation of inverse-multiplier is aggravating the losses.
Some small-scale manufacturers of agricultural implements in the Malwa region of Punjab had to forego the export of straw reapers to Pakistan — worth Rs 60 crore per annum, with a huge potential in future as the product is in high demand — because of the trade embargo. Exporters of cotton (Nahar Spinning Mills and Vardhman Group) are also suffering from an unused capacity of specially designed spindles of particular counts, suiting the requirements of Pakistan importers.
Direct employment of nearly 12,000 workers (including 2,500 porters, 1,000 drivers and cleaners), in addition to a huge indirect employment, have gone because of the trade curbs. Thousands of families have lost their livelihood. Needless to say, the Covid-19-driven lockdown must have pushed them into a more vulnerable situation.
https://www.tribuneindia.com/news/comment/indo-pak-trade-embargo-has-hit-punjabs-economy-151208
-----
Will 2020 End With A Third World War?
By Anil Gupta
05 October 2020
The world community will have to wait anxiously and watch the simmering conflict between Armenia and Azerbaijan for the next few weeks
While the global community was glued to eastern Ladakh and the South China Sea (SCS) as flashpoints that may endanger global peace due to growing Chinese belligerence, another conflict has emerged in the Caucasus region. This area lies between the Black Sea and the Caspian Sea, mainly occupied by Armenia, Azerbaijan, Georgia and parts of southern Russia. The region is the lifeline of oil supply to neighbouring countries with major pipelines passing through here. It also serves as the border between Asia and Europe.
On September 27, a long-simmering conflict in the south Caucasus once again burst into open clashes between Azerbaijan and Armenia. The cause of the ongoing battle, which soon may erupt into an all-out war since both nations have declared martial law, is the disputed enclave of Nagorno-Karabakh. The control of this enclave was ceded to Armenia in 1994 after a bloody separatist conflict.
Universally, Nagorno-Karabakh is accepted as part of Azerbaijan. Both countries have been fighting each other since then at irregular intervals. The latest provocation dates back to July this year when Armenia killed a general and other officers of Azerbaijan's military in a missile strike, leading to a big uproar in Baku which swore to take revenge soon. Azerbaijan was buoyed by the immediate Turkish offer to prepare for the response.
Nagorno-Karabakh proper has an area of about 4,400 square kilometres but Armenian forces occupy large swathes of the adjacent territory. Long-simmering tensions between majority Christian Armenians seeking union with Armenia and mostly Muslim Azeris began boiling over as the Soviet Union began to disintegrate in its final years. The USSR collapsed in 1991 and the republics became independent nations. In late 1991, a majority of Armenian inhabitants declared independence from Azerbaijan with Armenia's support. It led to the emergence of the Republic of Artsakh, which to date remains unrecognised.
The efforts of Azerbaijan to reimpose its authority led to a fight for ownership, soon converting into the bloodiest war between the two neighbours. The war saw atrocities on both sides. A 1994 ceasefire left Armenian and Azerbaijani forces facing each other across a demilitarised zone, where clashes are frequently reported. The region has since been under the control of Armenian forces, though it is still internationally recognised as part of Azerbaijan, as stated earlier. International mediation, including United Nations resolutions, have failed to resolve the crisis.
The new flashpoint has one thing in common to the other two, and that is the expansionist ambitions of another ultra-nationalist leader, the Turkish President, Recep Tayyip Erdogan. Ever since his ascendancy to power, he has embroiled Turkey militarily in neighbouring countries like Iraq, Syria and Libya, including the eastern Mediterranean region. He is on the opposite side of Russia in both Syria and Libya, leading to regional rivalry. Turkey is also pressing territorial claims in disputes with Greece and Cyprus, thus creating alarm among its North Atlantic Treaty Organisation (NATO) allies. It has a powerful military, which has also led Erdogan to view himself as the future leader of the Muslim world, displacing the traditional royal house of Saud. This is just like Chinese President Xi Jinping, who is dreaming to be the world leader replacing the US President. Erdogan is also preparing a non-Arab Muslim alliance with the active connivance of Pakistan. His growing assertiveness in the region has changed his nation's power dynamics.
While all other nations like India, China, the US, France, Iran and the European Union (EU) have asked both countries to refrain from a full-fledged war and return to the negotiating table to resolve the issue through dialogue, Turkey and Pakistan have offered open support to Azerbaijan and egged it on to liberate the disputed enclave from Armenian control.
French President Emmanuel Macron has warned Turkey to refrain from sending jihadists as mercenaries to the troubled area. It has also been reported that Pakistan has already sent Al Qaeda and Taliban jihadists to the area along with one unit of regular soldiers. Pakistan, which is already known as the fountainhead of terror, wants to convert this region into another epicentre of jihadist terror like Afghanistan. The majority jihadists, despite being Sunnis, are willing to fight alongside the Shiite Azeris against Armenians because they consider it as a holy war between the Muslims and the Christians. While Vatican has also called for restraint, both Pakistan and Turkey are encouraging Azerbaijan to continue the fight and have expressed their solidarity towards Muslim brotherhood. Pakistan is also keen to develop the area into another zone of Muslim liberation like Palestine and Kashmir. Whether this has the covert support of China is not yet clear but both Turkey and Pakistan enjoy good relations with each other.
The geopolitics of the region is very complicated. Turkey and Pakistan have military alliances with Azerbaijan, while Armenia has a similar treaty with Russia, which has a military base in Armenia. Russia also enjoys good relations with Azerbaijan and is its major arms supplier. Russia, France and the US jointly chair the Minsk Group, which was founded in 1992 by the Conference on Security and Cooperation in Europe, now known as the Organisation for Security and Cooperation in Europe (OSCE) to try and find a peaceful solution to the Nagorno-Karabakh conflict. All the three nations have close ties with Armenia. Turkey, being an important NATO member, has caused an imminent crack in the organisation with France and the US inclined towards Armenia.
Armenia has responded to the peace call by the Minsk Group but Azerbaijan's response is not yet known. Israel is an arms supplier to Azerbaijan but with Turkey openly supporting Azerbaijan and its newly-formed ties with Muslim nations in the Middle East, it has put Israel in a Catch-22 situation. Iran shares borders and is also friendly with both the nations. But in case of a religious war, it would have to decide to support Azerbaijan or stay neutral.
With global terror outfits moving into the area and more Muslim countries backing Azerbaijan, the situation is getting polarised. India, too, has a stake in the region. The North-South Corridor linking Mumbai to Moscow via Chabahar passes through Azerbaijan. India will not like the region to become another jihadist terror hub.
Outright war could put key pipelines at risk. Any direct involvement by Turkey will push Russia into the war. France has already warned Turkey. A direct attack on Armenia would invoke its defence pact with Russia and draw it into the conflict. In case of a Muslim versus Christian fight, many countries, including the EU, are likely to join, splitting the NATO. This would have repercussions beyond the region as well. If China decides to join its friends, Pakistan and Turkey, it may lead to a Third World War. But with China tied down in a confrontation with India and US-backed Taiwan, it is less likely.The world will have to wait anxiously and watch the happenings of the next two-three weeks to determine if 2020 will end peacefully or not. Yes, world peace is at stake.
-----
Anil Gupta is a Jammu-based security and strategic analyst
https://www.dailypioneer.com/2020/columnists/will-2020-end-with-a-third-world-war-.html
URL: https://www.newageislam.com/indian-press/new-age-islam-edit-bureau/indian-press-on-babri-masjid-hindus-and-muslims-and-indo-pak-trade-new-age-islam-s-selection-5-october-2020/d/123042
New Age Islam, Islam Online, Islamic Website, African Muslim News, Arab World News, South Asia News, Indian Muslim News, World Muslim News, Women in Islam, Islamic Feminism, Arab Women, Women In Arab, Islamophobia in America, Muslim Women in West, Islam Women and Feminism