New Age Islam Special Correspondent
28 January 2021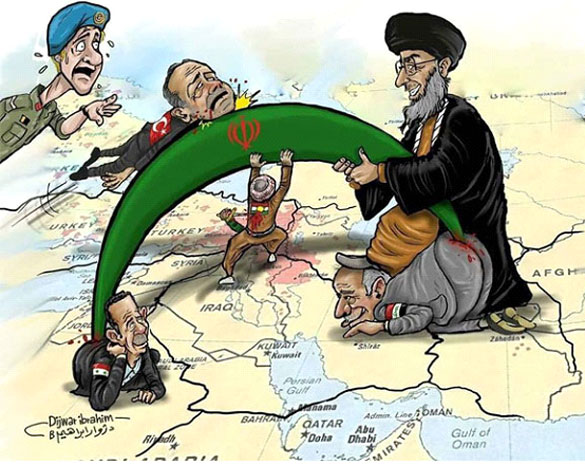 Courtesy: Baxtiyar Goran
@BaxtiyarGoran
The Iranian (Shia) Crescent.
-----
With Joe Biden assuming office, one major policy change in the Middle East was the lifting of the three and a half years trade and travel blockade on Qatar imposed by GCC countries, Saudi Arabia, Egypt, Bahrain and the United Arab Emirates in June 2017 at the behest of the former US president Donald Trump. Apparently, the reason of the blockade was the alleged financing of the extremist groups ----- Muslim Brotherhood, ISIS, Al Nusrah and Al Qaida ---- by Qatar, the real cause of the blockade was Saudi Arabia's discomfort over Qatar's relations with Iran which is trying to expand its political and economic influence in the Middle East. Iran has been trying to create a Shia Crescent from the Gulf to the Mediterranean by forming alliances with Shia militant groups like the Houthis in Yemen, Hezbollah in Lebanon, Kata'ib Hezbollah in Iraq and Bashar al Assad's army in Syria.
Saudi Arabia's another concern was Qatar's military alliance with Turkey's Erdogan who aspires to establish a Neo-Ottoman empire or caliphate and for that purpose it has started expanding his military and diplomatic presence in the region. Erdogan has established a military base in Western Libya and has signed along with Qatar an agreement with Libya for providing military training and support to Libyan military. It has also established military bases in Idlib province of Syria and Qatar. Turkey has also established its largest military base in Somalia. Erdogan has also suggested a pan-Islamic army which will be commanded by Turkey.
Saudi Arabia, therefore, considers the economic and military ties of Qatar, on the one hand, with its arch enemy Iran and, on the other hand, with its Sunni rival Turkey as a threat to its security and hegemony in the region.
To curb Qatar's ties with Iran and Turkey, Saudi Arabia and other GCC countries, Bahrain, Egypt and UAE had in May 2017 put 13 conditions before Qatar failing which the GCC would impose a trade and travel blockade on Qatar. The GCC had given Qatar 15 days' time. The most important conditions were:
1) Qatar should scale down its relations with Iran
2) Qatar should close down Al Jazeera TV
3) It should close down Turkey's base in Qatar
4) Submit its audits for ten years.
Qatar termed these conditions as a curb to its sovereignty and refused to comply. Instead it filed a lawsuit against Saudi Arabia with WTO and International Aviation Authority.
In fact, the political and diplomatic tussle between Saudi Arabia and Qatar started in 1995 when its Khalifa decided to come out of the shade of Saudi Arabia. It decided to become an independent force in the region instead of remaining a stooge of Saudi Arabia.
This stubbornness of Qatar had compelled Saudi Arabia to withdraw its ambassador to Qatar from 2002 to 2008. The differences between the two countries sharpened during the Syrian Civil War when both the countries scrambled to have a greater control over the ISIS.
Courtesy: Pinterest
Alternate History
Alternate history book page - Neo Ottoman Empire
Saved by Laura Overmann
-----
The desperation of Saudi Arabia with Qatar is also due to the latter's better relations with both the Sunni and Shia militias. While it funds and supports the Sunni militias like Muslim Brotherbood based in Qatar Hamas, and ISIS, it also funds Shia outfits like Hezbollah. It has also allowed Taliban to open its political office in its land.
These are the reasons Saudi Arabia imposed a blockade on Qatar and expelled it from GCC.
But after Joe Biden's taking over as the US president, Saudi Arabia had to make amends with Qatar as Biden had expressed its unhappiness over Saudi Arabia's human rights violations and its bombardment on civilians of Yemen. Since Biden has hinted at a policy makeover vis a vis Iran, Saudi Arabia would need the diplomatic support of Qatar which has stronger ties with the US to influence Biden's policy on Iran.
Therefore, Saudi Arabia and GCC countries lifted the blockade on Qatar on 5 January 2021 without Qatar fulfilling any of the 13 conditions. Qatar agreed only to rescind its lawsuit against Saudi Arabia filed with WTO and International Aviation Authority.
The lifting of the blockade has only strengthened Qatar's position as Saudi Arabia's rival in the region and a greater regional player.
However, if Joe Biden really wants peace and stability in the region, he will have to create a global concensus to ensure that terrorist organisations do not call the shots in the regional and world politics and the US, Saudi Arabia, Qatar, Pakistan, Turkey and Iran do not fund, support and use the terrorist organisations to achieve their political goals.
URL: https://www.newageislam.com/interfaith-dialogue/new-age-islam-correspondent/shia-crescent-vs-neo-ottoman-empire-the-tussle-for-power-in-the-middle-east/d/124176
New Age Islam, Islam Online, Islamic Website, African Muslim News, Arab World News, South Asia News, Indian Muslim News, World Muslim News, Women in Islam, Islamic Feminism, Arab Women, Women In Arab, Islamophobia in America, Muslim Women in West, Islam Women and Feminism