By S. Arshad, New Age Islam
15 January 2021
West and Southern African countries have become killing fields of ISIS-affiliated terrorist groups and they are getting stronger by the day. Though they are active in the region for about a decade, they have bocome more powerful after getting affiliated to the ISIS after 2014. They have carried out mass killings, mass abductions and arson. Their target are not only Christians but also sufi and moderate Muslims who do not approve of their jihadist ideology.
They claim that they want to establish a shariah based Islamic state or caliphate.
The most ruthless group in the region is Boko Haram. It is based in Nigeria but also conducts terrorist attacks in bordering Niger. It opposes elections through voting, wearing trousers and shirts and secular or modern education. It has declared the Nigerian state a government of non-believers. It is important to note that Nigeria has 50-50 population of Muslims and Christians and in 12 of the 36 states of the country where Muslims are in majority, Shariah law has been recognised by the federal government.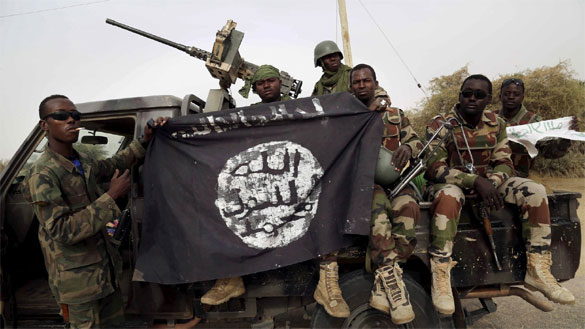 Nigerian soldiers hold up a Boko Haram flag that they had seized in the recently retaken town of Damasak, Nigeria, on March 18, 2015. Emmanuel Braun/Reuters
------
The Boko Haram's main activity is mass abductions for ransom. During the last six years it has carried out 15 mass abductions. Three mass abductions of school students were carried out in 2014, 2018 and 2020. In 2014, they abducted 276 school girls from a science school in Chibok and released them after 'negotiations' with the government. Still some of the girls were not released and are still untraced. In 2018, ISWAP (Islamic State of West African Province), a breakaway group of Boko Haram abducted 110 girls from a school in Dapchi on 19 February. It released them after a 'deal' with the government in March. But a Christian girl Leah Sharibu was not released because she did not agree to renounce Christianity. She is still in their custody as a slave.
In December 2020, the Boko Haram abducted more than 300 students from a boys school. They were released after a week following a negotian between them and the government.
It is obvious that mass abductions are a source of income for Boko Haram. The government is weak and cannot control or reign in these terrorist organisations. The army and security forces are ill equipped and have a low morale. This is the reason, Boko Haram carries out mass abductions so easily. The government pays ransom to secure the release of hostages. The government denies this but a report of the UN has revealed that it pays ransom to the terrorists to secure release of histages.
The report submitted to the Security Council revealed that the Nigerian goverrnment paid ransom to secure the release of Dapchi girls. This has emboldened the Boko Haram to carry out more mass abductions.
The most unfortunate part of these deals are that even after getting their demands fulfilled, they don't release all the captives and the government is so helpless that it can't do anything. Some girls abducted from Chibok are still in their captivity and are being treated as slaves.
Aparr from abductions, these terrorist organisations carry out mass killings of Christians and moderate Muslims opposing their ideology. Since 2009, they have killed more than 32000 people in Nigeria. In 2020 alone, 11500 Christians have been killed by Boko Haram. They destroyed and burned churches, houses and schools.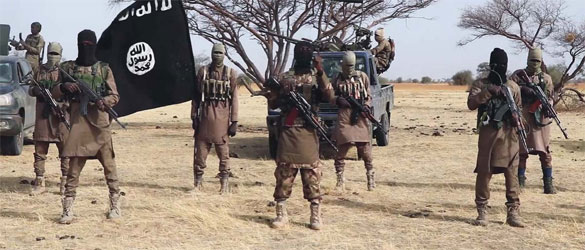 Mozambique is another African country where the terrorist outfits, mainly Al Shabab is active against the Majority Christians. In Mozambique, the majority Christian population is 57% while the Muslims account for 19% of the population. The Muslims form a majority in Cabo Delgado province. It is in this province that the terrorists are active. Christians are more aften targetted by them. On November 10, last year, the militants killed more than 50 Christians. The insurgency has intensified in this country since 2017. More than 3000 people have been killed during the last three years. In 2020 alone, they carried out more than 300 attacks in northern Mozambique. Due to this, hundreds of thousands of people had to flee the region. 40 people drowned in Ibo river while fleeing.
Though the country is rich in gas and minerals, there is a largescale resentment against the government because the people of the mineral rich region feel that the benefit of development does not reach them. Poverty and unemployment are used by the militant outfits to recruit the youth. They promise them that once the Shariah ruled state is established, their misery and unemployment will be removed.
Niger bordering Nigeria also reels under the terrorist violence unleashed by the Boko Haram and other militant groups affiliated to the ISIS. The country is predominantly Muslim but the militant organisations want to establish their version of Shariah there. Hence the violence and killing.
On December 14, 2020 the Boko Haram militants killed 34 Christians in Diffa town.
The rise of ISIS after 2014 has provided a shot in the arm of the militant organisations in the African Muslim majoritg countries. These militant outfits that thrived on human trafficking, drug smuggling and aductions for ranson joined rhe ISIS to justify their un-Islamic activities. By joining the ISIS they at once became a part of an international organisation. They are supported by the ISIS whenever they need it and also they present themselves as flagbearers of Caliphate movement.
The hardline and conservative religious teachings in madrasas in these countries and sermons in mosques by the hardline ulema have also contributed to the jihadi mindset of Muslims. The majority of clerics of African countries are educated and trained in Saudi Arabia, Kuwait and Qatar and therefore have a conservative and fundamental approach to Islam as compared to the sufi and moderate outlook of Sufi stream of Islam of Swahili areas.
While Al Qaida thrived on anti-America rhetoric, the ISIS thrives on Caliphate rhetoric. Until the myth of caliphate is removed from the Muslim psyche, the terrorist groups will continue to grow and succeed in their plans.
-------
S. Arshad is a columnist with NewAgeIslam.com
URL: https://www.newageislam.com/radical-islamism-and-jihad/s-arshad-new-age-islam/african-countries-mozambique-nigeria-and-niger-have-become-a-hotbed-of-islamist-terrorism/d/124080
New Age Islam, Islam Online, Islamic Website, African Muslim News, Arab World News, South Asia News, Indian Muslim News, World Muslim News, Women in Islam, Islamic Feminism, Arab Women, Women In Arab, Islamophobia in America, Muslim Women in West, Islam Women and Feminism