New Age Islam Special Correspondent
12 January 2021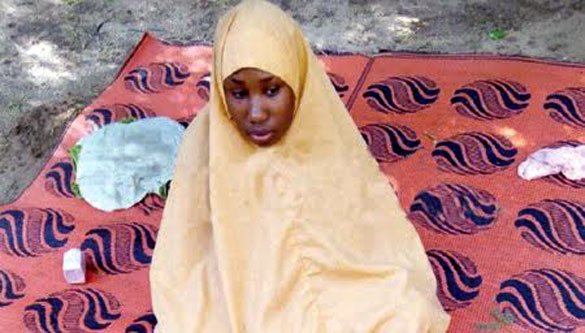 Leah Sharibu in hijab
------
"I will accept a member of ISWAP (Islamic State of West African Province) as my son-in-law if my daughter is released safely". This statement of Rebecca Sharibu, mother of 16 year old Christian girl Leah Sharibu demonstrates her desperation for the release of her daughter who was abducted on January 19, 2018. On January 19 this year she will complete three years in captivity of ISWAP, a breakaway group of Boko Haram.
Leah Sharibu was one of the 110 girls abducted by IS from a science school in Dapchi in Yobe state of Nigeria. Four girls had died of exhaustion on the way. After one month in March, all the girls except Leah were released following negotiations between the government and the terrorist group. Leah was not released because she was the only Christian girl in the group and she refused to renounce Christianity at the order of the group commander.
She sent a message to her mother through her classmates who were released:
"My mother, you should not be disturbed. I know it's not easy missing me but I want to assure you that I am fine where I am......I am confident that one day I shall see your face again. If not here, there at the bosom of our Lord Jesus Christ.".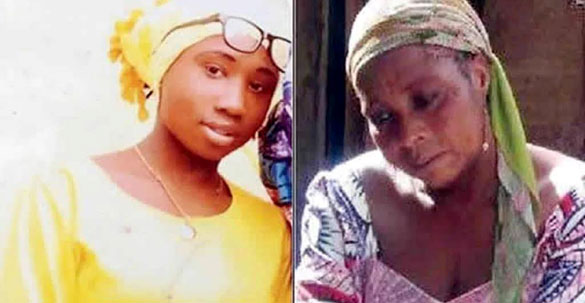 Leah Sharibu and mother Rebecca Sharibu
-----
Receiving Leah's message, her mother Rebecca fainted. Since then Rebecca and her husband Nathan have made appeals to the Nigerian government led by President Mohammadu Buhari to secure Leah's release but the government has not been able to strike a deal with the outcastes though the government claims that negotiations are on.
Later, reports indicated that she had been married to a commander. Another report said that after she refused to convert to Islam, she was 'gifted' to a commander of the group as a slave.
For the next four months, there was no news about her. This had made her parents very worried. Her mother fell ill due to the tension and had to be shifted to Adamawa state where her husband works for better care.
In August 2018, an audio tape of a message of Leah appeared in which she addressed the government appealing the President to get her released. The message said:
"I am Leah Sharibu, the girl who was abducted from Government Girls Science Technical College, Dapchi. I am calling on the government and people of goodwill to get me out of this problem. I am begging you to treat me with compassion. I am calling on the government, particularly the President to pity me and get me out of this serious situation."
When Leah's parents heard the audio message they testified to the authenticity of Leah's voice and were delighted to know that atleast she was alive.
In October 2018, the ISWAP declared that since Leah had refused to renounce her faith, she would be treated as a slave for life.
In 2019, Leah's mother Rebecca learnt that the government was negotiating with the terrorist outfit and that the latter wanted prison swap. But nothing came out of the talks.
What came was only an assurance by the President Buhari through a message on twitter to her mother Rebecca reiterating his government's determination to bring back Leah.
In September 2019, the President's office confirmed that Leah was alive and that negotiations for her release were going on. But still there was no good news about her. Leah's parents were not sure whether she was alive or had been killed.
In December 2019, some aid workers working for the NGO Action for International Medical Alliance were abducted by Boko Haram. Later they were released in January 2020. A female worker Jennifer Ukambong Samuel confirmed that Leah was alive and well and was held captive in a forest hideout along with another abducted Christian nun Alice Loksha Ngaddah. They said that now it was lawful for them to do what they wanted with the two.
Desperate to get her daughter back alive, Rebecca Sharibu said that she was ready to accept a member of ISIS as her son-in-law if her daughter returns alive and safe. This demonstrates Rebecca's desperation to get her daughter back at any cost.
In July 2020, there was a rumour that Leah had given birth to a baby boy. Earlier in January 2020 video, she was seen in a hijab.
Rejecting the rumours as false, Rev. Gideon Para Mallam said Leah cannot renounce faith and that she must have converted under force. His father Nathan reacted to her hijab video saying he did not bother about hijab so long as her daughter was alive. He said he only wanted the safe return of her daughter.
For the last six months, there is no news about Leah. She has been held captive by the ISWAP for the last three years. The government of Muhammadu Buhari has been doing only lip service. The UK government has also not done much to pressurise the Nigerian government to get Leah's release apart from formally expressing its support to Buhari government in its fight against terrorism.
The story of Leah Sharibu is a demonstration of how the terrorist groups use the interpretations of the Quranic verses about slave-girls circulated and propagated by radical sections of ulema to justify their terrorist acts. A hapless non-combatant 14 year old Christian girl who was abducted by the terrorists has become a 'slave' to them and it has become 'lawful' to them to do what they want with her. Terrorist group's like Boko Haram and ISIS are a blot on Islam and humanity. The Muslim world should pressurise the ISIS to release Leah Sharibu as soon as possible. The Human Rights Council of the United Nations should take cognisance.
URL:
New Age Islam, Islam Online, Islamic Website, African Muslim News, Arab World News, South Asia News, Indian Muslim News, World Muslim News, Women in Islam, Islamic Feminism, Arab Women, Women In Arab, Islamophobia in America, Muslim Women in West, Islam Women and Feminism