Prophet Muhammad Was Indeed Mercy for the World, says chief guest Father Victor Edwin SJ in the Eid Milad-un-Nabi Programme of the New Age Islam Foundation
By New Age Islam Special Correspondent
16 Jan 2014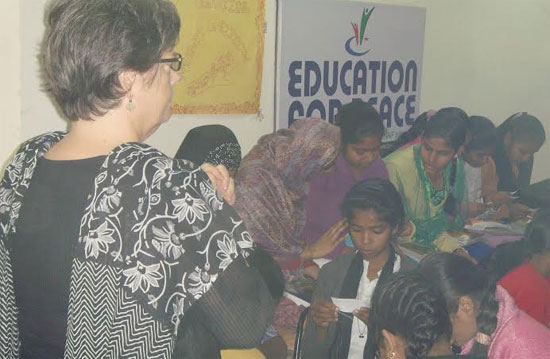 Education for Peace and NewAgeIslam.com, both initiatives of New Age Islam Foundation organised the Eid Milad-un-Nabi Program to mark the 1444th birthday of the Prophet Muhammad (peace be upon him). This occasion was celebrated with an aim to apprise the Hindu-Muslim-Sikh-Christian students enrolled in the centre of the glorious life and teachings of the Prophet Muhammad (peace be upon him). The Milad Program focused on highlighting the Qur'anic verse that the Prophet Muhammad (peace be upon him) was sent as a mercy to the entire world (Quran- 21:107). It also brought to light the Islamic and Prophetic perspective on global peace, interfaith harmony as well as underscoring the need for tolerance and mutual understanding among followers of different faiths.
In keeping with the Milad tradition, the event started with the beautiful recitation of the Qur'anic verses and holy Islamic songs (Nasheed) by Muhammad Qaseem, a Madrasa graduate and student in Jamia Millia Islamia, New Delhi.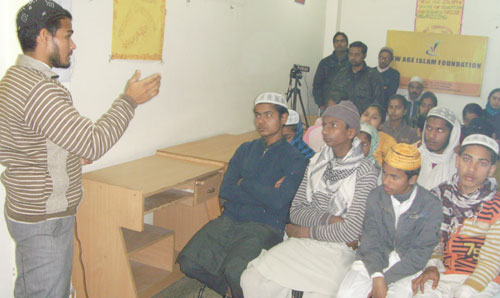 Speaking at the very outset, Mr. Ghulam Ghaus, an Islamic scholar and a regular columnist with New Age Islam, delivered a very comprehensive speech on the religious legality of celebrating the birthdays of the Prophets of Islam. He also touched upon various harmonious aspects of the Prophet Muhammad's life and prophethood (peace be upon him). Quoting a number of Qur'anic verses and citing numerous examples from the Prophet's life and traditions, Mr. Ghaus substantiated his point that celebrating the Prophet's birthday and rejoicing the sheer bounties of God on this occasion is not un-Islamic. He said: "The legitimacy of Mawlid celebrations has been majorly endorsed by the most fundamental sources of Islamic law: the Qura'n and the Hadith. The history of Mawlid celebrations of any one of the prophets goes back to the time immemorial. A particularly strong endorsement was expressed when God, Almighty sent peace on the birth and death anniversaries of the prophet Yahya (pbuh). God Almighty says: "Peace be on Him (the prophet, Yahya) the day when he was born and the day when he will die and the day when he will be raised alive." (Sura Al-Maryam, Verse: 15)."
Mr. Ghulam Ghaus continued: "Here God Almighty gave the way to the Mawlid of Yahya (pbuh) by sending peace on him. It is the same way as today mainstream Muslims have adopted to practice the Mawlid celebrations. Just the same way, the Quran tells us, the prophet Jesus (pbuh) celebrated his own birthday: "And the same peace on me the day I was born and the day I will die and the day I would be raised alive." (Sura Al Maryam, Verse: 33)".