By S. Arshad, New Age Islam
29 April 2021
Taraweeh Is A Special Prayer Offered In Ramadan
Main Points:
1. The holy Prophet pbuh offered Taraweeh in Ramadan collectively for only three days
2. After the Prophet's demise, Nuslims offered Taraweeh individually
3. Hadhrat Umar r.a. made it a collective prayer
-----
The special prayer of Taraweeh is offered in the month of Ramadan. It is offered after the prayer of Isha. Generally 20 Rikats are observed though different sects follow different beliefs about the number of Rikats. In Indian sub-continent, Muslims offer 20 Rikats of Taraweeh.
The hadiths give an account of how Taraweeh was introduced by the holy Prophet pbuh and how it became a part of the rituals of the month of Ramadan.
Hadhrat Abu Hurairah r.a. narrated that he heard the holy Prophet pbuh saying, "Whoever offers Taraweeh in Ramadan in good faith his previous sins will be forgiven."(Kitabus Salat: Chapter 8; No. 1213 Sahih Bukhari)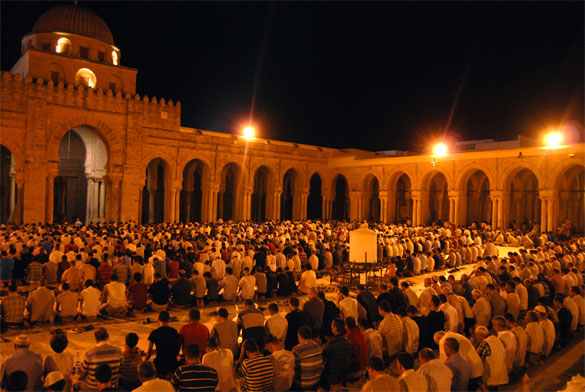 Tarawih prayer at Great Mosque of Kairouan, Tunisia.
----
Ibn-Shahab narrated that after the demise of the holy Prophet pbuh, people would offer Taraweeh (in mosque) individually and in groups. This continued during the caliphate of Hadhrat Abu Bakr r.a. and in the initial years of the caliphate of Hadhrat Umar r.a. Abdar Rahman narrated that one night he went to the mosque along with Hadhrat Umar r.a. and saw people offering Taraweeh individually and in separate groups. Hadhrat Umar said that it would be wise if I gather all of them under one Qari. Therefore, he gathered them under Ubai bin Ka'ab. After that when I went to the mosque with Hadhrat Umar one night, I found them offering Taraweeh under their Qari. Hadhrat Umar said, "This Biddat is rather good, and that part of night in which you offer Namaz is better than that in which you keep sleeping and that people would offer Taraweeh in the first part of night."(Kitabus Salat: No 1885: Chalter 8 Sahih Bukhari)
Hadhrat Abu Salama bin Abdur Rahman narrated that he asked Hadhrat Ayesha r.a. "How many Rikat of Namaz would the holy Prophet pbuh offer in Ramadan?" She replied, "Whether it was Ramadan or non-Ramadan, he pbuh would not offer more than eleven Rikats: First, four Rikats, and what to say about the length and beauty of it, then four Rikats, and what to say of the length and beauty of it, and then he pbuh would offer three Rikats. Once I said to him, 'O Prophet of God! You sleep before offering Witr, he pbuh said, 'Ayesha! My eyes sleep, the heart does not."(1887)
Another hadith gives an account of how Taraweeh assumed the status of Sunnah. Hadhrat Ayesha narrated, "Once the holy Prophet pbuh went out of the house in the middle of night in Ramadan and offered Taraweeh in the mosque. Some people also offered Taraweeh behind him. In the morning people discussed it. Second night more people gathered and offered Taraweeh with him and discussed among more people. On the third night even more people gathered . The holy Prophet pbuh came out and offered Taraweeh. People offered Taraweeh with him. On the fourth night so many people gathered that there was shortage of space in the mosque. (The holy Prophet pbuh did not come out). He pbuh came out in the morning for prayers and addressed the people after the prayers. After reciting Tashahhud, he pbuh said, "I knew that you had gathered here but I feared that this Namaz ( Taraweeh) may become mandatory ( Fardh) for you and you may not be able to perform it. That's why I did not come out. After that he pbuh left for his heavenly abode and the situation remained the same."(Kitabus Salat: Chapter 8: No 1886)
From the hadiths and traditions quoted above, it becomes clear that the Muslims offered Taraweeh with the holy Prophet pbuh for three days and after the prophet's demise, Muslims offered Taraweeh in small groups or alone. During the caliphate of Hadhrat Umar r.a. Taraweeh was offered in Jamat under one Qari and has since become an integral part of Ramadan.
------
S. Arshad is a NewAgeIslam.com columnist.
URL: https://www.newageislam.com/islam-spiritualism/s-arshad-new-age-islam/the-background-taraweeh-ramadan/d/124755
New Age Islam, Islam Online, Islamic Website, African Muslim News, Arab World News, South Asia News, Indian Muslim News, World Muslim News, Women in Islam, Islamic Feminism, Arab Women, Women In Arab, Islamophobia in America, Muslim Women in West, Islam Women and Feminism