New Age Islam Special Correspondent
1 April 2021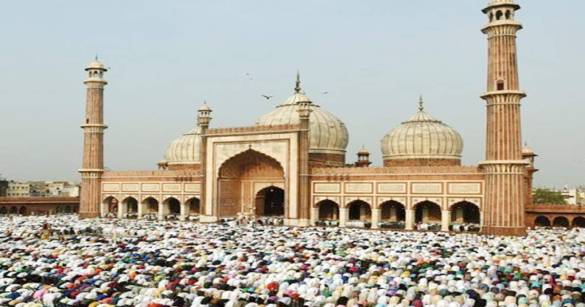 Jama Masjid, Delhi
-----
Last Month the ex-Chairman of UP Shia Waqf Board created a controversy by filing a PIL seeking order of the Supreme Court of India to remove 26 verses which according to his understanding promoted enmity between communities and were a threat to the security of the country. Both Shia and Sunni communities condemned his act and held protest meetings demanding his arrest. He was also declared a heretic. A lawyer announced a reward of Rs 11 lakh for his head. Muslims also abused and threatened him over the phone. Seeing the mood of the Muslims, Waseem Rizvi's relatives and family members announced their boycott of Rizvi. On the 19th of March which was a Friday, a protest meeting was organised by Anjuman-e-Haidary at Jama Masjid which was participated by Maulana Ahmad Bukhari and Maulana Kalb-e-Jawad among others. Slogans like "Jo hum se takrayega, Chur chur ho jayega" were raised. Both Shia and Sunni ulema vowed to come together against the 'fitna' ( mischief ) of Waserm Rizvi and demanded that Supreme Court should not accept the petition.
But a section of Muslims felt that Muslims should not have reacted the they did. Legal expert Faizan Mustafa said that the Muslims should not have showed violent reaction abusing Rizvi and announcing reward on his head. An imam of a Delhi mosque said that since Muslims believe that Allah has taken up the responsibility of protecting the Quran, Muslims should not have blown the issue out of proportion.
Perhaps, this is the reason both Shia and Sunni communities have become silent after the protest meeting at Jama Masjid. Waseem Rizvi has not also released any statement. The National Commission of Minorities has issued a notice to Waseem Rizvi directing him to withdraw his statement against the Quran and apologise unconditionally. It said:
"NCM directs you to withdraw your comments and tender an unconditional apology within 21 days, failing which the Commission will be constrained to hold a hearing under Section 9 of the National Commission for Minorities Act, 1992 and direct appropriate authorities to take legal action as deemed fit,"

Perhaps, Shia and Sunni communities are waiting for Waseem Rizvi's response to NCM. The deadline for his response ends on 5th April.
Anjuman Haidary which was at the forefront of anti-Rizvi protests is also silent on the issue. When contacted over the phone, a spokesperson from the Anjuman did not want to say anything on the issue except that "Let's see what happens". The fervour and zeal was missing as if they did not want to talk on the issue.
It seems that the Shia-Sunni unity that was forged at Jama Masid was only a knee jerk reaction. And the unity was not approved by the larger community on both sides. If it was really a unity, it meant that Shias would not do tabarra against the three rightly guided caliphs any more and Sunnis would withdraw there fatwas declaring Shias Kafir. It would also mean that Shias will not call the first three caliphs "ghasib"( Usurper) and Sunnis would not call Shias 'Rafizi'.
Only last year, two Shia factions led by Maulana Yasoob Abbas and Waseem Rizvi had requested the government of India to treat Shias as a non-Muslim protected minority because they did not consider themselves Muslims. An excerpt from a report by Namita Bajpai published in New Indian Express on 9 December 2019 is reproduced here.
"Amid the raging controversy over the Citizenship Bill (CAB) which the Centre is pushing hard in Parliament, the All India Shia Personsl Law Board( AISPLB) and the UP Shia Wakf Board have decided to request the Central government to increase the ambit of the Bill to include Shias in the list of protected non-Muslim minorities who would be given citizenship on account of their religious persecution in the neighbouring Islamic countries."
Did Maulana Yasoob Abbas approve of the Shia-Sunni unity showed at Jama Masjid? Or did other prominent Sunni Muslim ulema approve of the unity? Only Maulana Ahmad Bukhari from the Sunni sect and Maulana Kalb-e-Jawad from the Shia community were the prominent personalities in the protest meeting.
Both the communities are waiting for Waseem Rizvi's response by the 5th of April hoping that he will withdraw his petition but earlier he had vowed to fight till the end.
Waseem Rizvi's response to the NCM will decide the direction of the controversy but the united protest by Shias and Sunni leaders at Jama Masjid and Shia leaders offering Friday prayers behind Sunni Imam Ahmad Bukhari only seems to be a knee jerk reaction based on hollow emotionalism and hypocrisy. If both the communities really want to forge a unity, they should remove takfeeri literature from their religious texts.
URL: https://www.newageislam.com/islam-sectarianism/new-age-islam-correspondent/lull-after-storm-w-shia-sunni-unity-forged-jama-masjid-delhi-only-knee-jerk-reaction/d/124637
New Age Islam, Islam Online, Islamic Website, African Muslim News, Arab World News, South Asia News, Indian Muslim News, World Muslim News, Women in Islam, Islamic Feminism, Arab Women, Women In Arab, Islamophobia in America, Muslim Women in West, Islam Women and Feminism