By Mushtaq Ul Haq Ahmad Sikander, New Age Islam
02 May 2020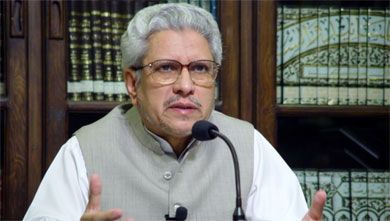 Reformist Islamic Scholar JavedGhamidi
Hayaat e Ghamidi :Javed Ahmad Ghamidi Ki IlmiAurTahreekiZindagi Ka TareekhiMutala
(The Life of Ghamidi: A historical exposition of Javed Ahmad Ghamidi's scholarly life and contribution to Revivalist Movement)
Author: Shah Imran Hasan
Publisher: Rahbar Book Service, New Delhi, India
Pages: 160 Price: Rs 160
Islamic Revivalist Movements particularly Jamaat e Islami (JeI) witnessed many phases in South Asia. In different countries it adopted different methodologies to achieve its goal of establishing the Islamic state. It's founding ideologue Mawlana Abul Ala Mawdudi (1903-1979) was an influential scholar, writer and political activist whose legacy and works are still open for debate. The party he founded in 1941, JeI has the privilege of being a well networked and hierarchal grassroot level party not only in terms of its membership and presence, but in terms of attracting scholarly stalwarts to its narrative.
Most of the contemporary scholars of south asia at one point of time have been associated with JeI. Many of these former members today are leading critics of JeI. Javed Ahmad Ghamidi is one such contemporary Muslim scholar and a leading critique of JeI narrative. He is a much sought-after speaker and regularly appears on various television networks and is invited to lecture in different parts of the world. He has carved a niche for himself and his thoughts by offering various new interpretations of Islam. It is what Ijtihaad stands for, but most Muslim scholars shriek away from this duty. JavedGhamidi is very brave to set his foot in this forbidden territory and is paying the price for his views.
JavedGhamidi is not a prolific writer, though he has hundreds of recorded hours of his speeches. He has written few books on Islam offering his interpretation and completed the exegesis of Quran in five volumes titled Al Bayan. The current book under review by a young writer Shah Imran Hasan offers an introduction to the life, scholarly acumen, organizational affiliation and associates of Javed Ahmad Ghamidi with brevity.
Ghamidi is introduced as a scholar who is continuously striving for Ijtihad in the current times. The reader is exposed about the early life of Ghamidi, how during his student days his penchant for books, engagement with diverse and difficult themes indicated about his future scholarly life. His meeting with Maulana Amin Ahsan Islahi, a stalwart scholar of Quranic studies whose exegesis Tadabbur Ul Quran opened new paradigms of understanding the Holy text is an important turn in his life. In 1973 he came under his tutelage, thus began his life long intellectual journey. In 1983, Ghamidi established Al Mawrid Institute, that now has branches and chapters in different parts of the world. The institute established two important journals Ishraq (Urdu) published since 1987 and Renaissance (English) 1990 in which writings of Ghamidi and other scholars are regularly published.
Before coming under the influence and tutelage of Islahi, Ghamidi was associated with Jamaat e Islami and MawlanaMawdudi. So, he has been influenced by both these scholars, though later on he disassociated with Mawdudi and JeI. Hasan has divided the book in four broad themes. He has very well established the influences that shaped the personality of Ghamidi. He deliberates about his efforts in the field of Islamic Revivalism. Further it is pertinent to mention that Ghamidi is a leading critique of the philosophy of Islamic mysticism. He traces its roots to every other ideology except Islam. Most of his critique is recorded in the form of his speeches and writings.
What distinguishes Ghamidi from other scholars of Islam is his courage to maintain unique and different stance on various issues. His call is for Ijtihad and he practically indulges in it. Ghamidi traces the history of how the gates of creative thinking, interpretation and analysis of texts was closed and now is opposed by Ulama. Now after the elapse of few centuries the juristic rulings, opinions of Ulama and contextual interpretation of Islam has assumed sanctified status and sacredness. To question them is tantamount to blasphemy and for undertaking this important task, Ghamidi had to pay with the attacks and even martyrdom of some of his colleagues like Dr Farooq Khan. So he was coerced to migrate from Pakistan due to the threats by violent and extremist elements, who intend to impose their sectarian and divisive interpretation of Islam through the barrel of gun as they have lost the argument. Despite these threats Ghamidi is continuing with his scholarly mission and contributing to Islam through Ijtihad.
One of the important contributions of Javed Ahmad Ghamidi to the Islamic Revivalist movement is that on the pattern of JeI, Al Mawrid institute is supporting and producing scholars of Islam. They have a good number of scholars who mostly comprise of Ghamidi's students and now are his associates and they all work on different themes of Islam. They are writing books, conducting classes, answering questions and coming up with new interpretation of Islam that certainly is the need of the hour.
Overall, the book is a nice attempt by Hasan to document the life and scholarly achievements and contribution of Ghamidi and his other associates. It offers an introduction to the work undertaken by Ghamidi and his institute and at best can qualify for a hagiography. But it leaves a lot of scope for the other writers, historians and serious scholars for exploration. Still this attempt cannot be discounted despite its flaws as it offers the readers an introduction to the works of an important contemporary scholar of Islam. Hasan deserves our appreciation and compliments for bringing out this work.
An occasional columnist for NewAgeIslam.com, M.H.A.Sikander is Writer-Activist based in Srinagar, Kashmir